20 Salmon Dinner Ideas to Try Tonight
Salmon is a beloved dinner favorite for many reasons – it's delicious and buttery, easy to cook, and packed with health benefits. If you want to refresh your arsenal of salmon dinner ideas, you've come to the right place!
20 Salmon Dinner Ideas
You don't have to be a seasoned chef to achieve these delectable salmon dinner ideas – give them a shot and see how it goes!
1. Alaskan Salmon Fried Rice
Whether using fresh ingredients or leftovers, this Alaskan salmon fried rice recipe is always ready to impress. It packs plenty of flavor in one bowl and takes about half an hour to prepare and cook.
To keep the rice from becoming mushy, consider using day-old rice, working in small servings with a few portions at a time.
Get the recipe here.
2. Wild Alaskan Salmon Burgers
Burgers are always a crowd-pleaser, and we aren't just talking about the ones containing succulent red meat patties. Salmon burgers are healthy, mouthwatering, light, tender, and moist alternatives.
You can top your burger with whatever you desire – from grilled pineapples to homemade guacamole.
Get the recipe here.
3. Stacked Salmon Enchiladas
Stacked salmon enchiladas are a cheesy, addicting, and playful addition to game night or a potluck. They're perfect for sharing over the holidays and represent thinking outside the box when finding new ways to cook salmon.
It's a healthier take on other enchilada recipes and only takes a few minutes of preparation.
Get the recipe here.
4. Teriyaki Salmon Rice Bowl
If you're a fan of Asian flavors, this teriyaki salmon rice bowl is just what you need. It's tender, healthy, and gluten-free – perfect for diners with food restrictions.
You can take your culinary skills a step further by making a homemade teriyaki sauce. It'll impress any dinner guest!
Get the recipe here.
5. Beer-Battered Salmon Tacos
For home chefs who love cracking a cold one open while preparing dinner, this beer-battered salmon taco recipe is perfect for a laid-back dinner. The beer creates a crunchy, textured coating that balances the tender, buttery fish.
Top your tacos with a lime coleslaw to bring the flavors together!
Get the recipe here.
6. Alaskan Salmon Musubi
Calling all sushi lovers! This Alaskan salmon musubi recipe is a comforting snack for light dinners with friends and family.
While you don't traditionally dip musubi into a sauce, we recommend trying a passionfruit ponzu shoyu sauce – it's easy to make!
Get the recipe here.
7. Baked Salmon with Spring Vegetables
This healthy and easy recipe makes for a perfect springtime dinner with a quick and satisfying cleanup. In addition, it's highly customizable, as you can throw in whatever spring vegetables sing to your palette.
We recommend using purple carrots, green peas, and your favorite herbs.
Get the recipe here.
8. Roasted Salmon with Tzatziki Sauce
Are you looking for the perfect salmon-centric summer dinner? This roasted salmon switch tzatziki sauce is refreshing, light, and filling. The Mediterranean flavors add a dash of brightness for more adventurous palettes.
Pair your dish with a simple Greek salad to bring everything together.
Get the recipe here.
9. Honey Garlic Baked Salmon
If you love savory dishes with a dash of sweetness, try this honey garlic baked salmon recipe! This simple recipe requires minimal ingredients and only takes a few minutes to cook.
You can serve your honey garlic baked salmon with mashed potatoes, garlicky green beans, or a hearty cobb salad.
Get the recipe here.
10. Citrus-Roasted Salmon
Everyone knows fish goes well with a splash of acid, so you can depend on this citrus-roasted salmon recipe to deliver every time. It's perfect for the holidays when citrus season is in full swing.
Use limes and oranges, brightening up the dish with fresh dill.
Get the recipe here.
11. Caprese Stuffed Salmon
For something jam-packed with flavor, this caprese stuffed salmon won't disappoint. It's umami, filled with gooey mozzarella, and perfectly healthy.
If you have time to make an appetizer, we suggest an Asian cucumber salad, oven-roasted vegetables, or quinoa.
Get the recipe here.
12. Salmon Head Soup
You'll be surprised what you can do with salmon head – you can infuse your soup with a much-needed burst of flavor and add a few exciting textures.
If you prefer a less fishy taste, add cream to your broth. You'll end up with a perfect balance of flavors!
Get the recipe here.
13. Pan-fried salmon Lettuce Wraps
This recipe is a fuss-free, fork-free meal that is light, refreshing, and surprisingly filling! It's also highly versatile – you can give your sauce a Mediterranean twist or use balsamic vinegar.
You can even use leftover salmon for this dish, and you'll be pleased not to waste any part of the fish!
Get the recipe here.
14. Summer Crispy Salmon Salad
Most of us know salmon dishes to be buttery and flaky. What if you wanted to add a touch of crunch? This crispy salmon salad recipe features deliciously crunchy textures from pistachios!
You can use other nuts depending on your preferences.
Get the recipe here.
15. Salmon Fresh Rolls
Incorporating salmon into fresh rolls is a great idea if you love smoking salmon! This dish is an excellent spring or summer dinner idea; wrapping the rolls isn't as hard as you think.
This easy-to-make, healthy meal goes perfectly with a dipping sauce of your choice.
Get the recipe here.
16. Greek Salmon Bowl
Greek salmon bowls are perfect for when you have a ton of leftovers and aren't sure what to do with them. Throw in vegetables like cucumbers, tomatoes, cooked beets, and radishes with some microgreens for topping.
Do you want to add some texture to your dish? Use feta, nuts, or seeds!
Get the recipe here.
17. Salmon Chowder
Try this salmon chowder recipe if you're in the mood for some comfort food. It's creamy, hearty, and perfect for a cold night out.
It's also gluten-free and requires only one pot to cook!
Get the recipe here.
18. Spicy Miso Ramen with Chili Glazed Salmon
This versatile ramen dish is customizable to fit your preferences or dietary restrictions. Want to go easy on the carbs? Swap out the ramen noodles for kelp or zucchini noodles.
Is your diet gluten-free? Use a gluten-free miso paste!
Get the recipe here.
19. Moroccan Salmon with Couscous
If you prefer your salmon with a punch of flavors, the spiced marinade from this Moroccan salmon recipe is what you need.
Dice your vegetables finely to achieve the perfect couscous – they'll cook quickly and evenly.
Get the recipe here.
20. Pomegranate-Lacquered Salmon
Are you looking for the perfect winter dinner? This pomegranate-lacquered salmon achieves the perfect balance of savory and sweet and a gorgeous bronzed exterior.
A high-fat Alaskan salmon makes for the best results!
Get the recipe here.
Elevate Your Dinner Game with These Salmon Dinner Recipes
As far as any fish dish goes, these salmon dinner ideas are top-notch and highly versatile. Whether you're an amateur cook or seasoned chef, these melt-in-your-mouth meals will hardly disappoint!
+
Get fresh, sushi-grade Alaskan salmon delivered to your door.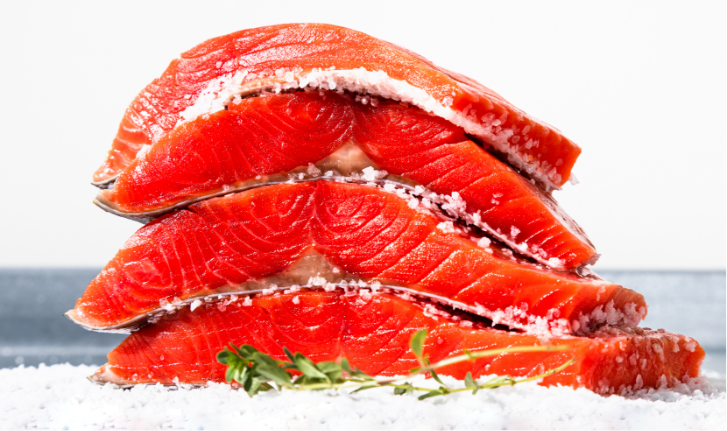 Shop Salmon