Stacked Salmon Enchiladas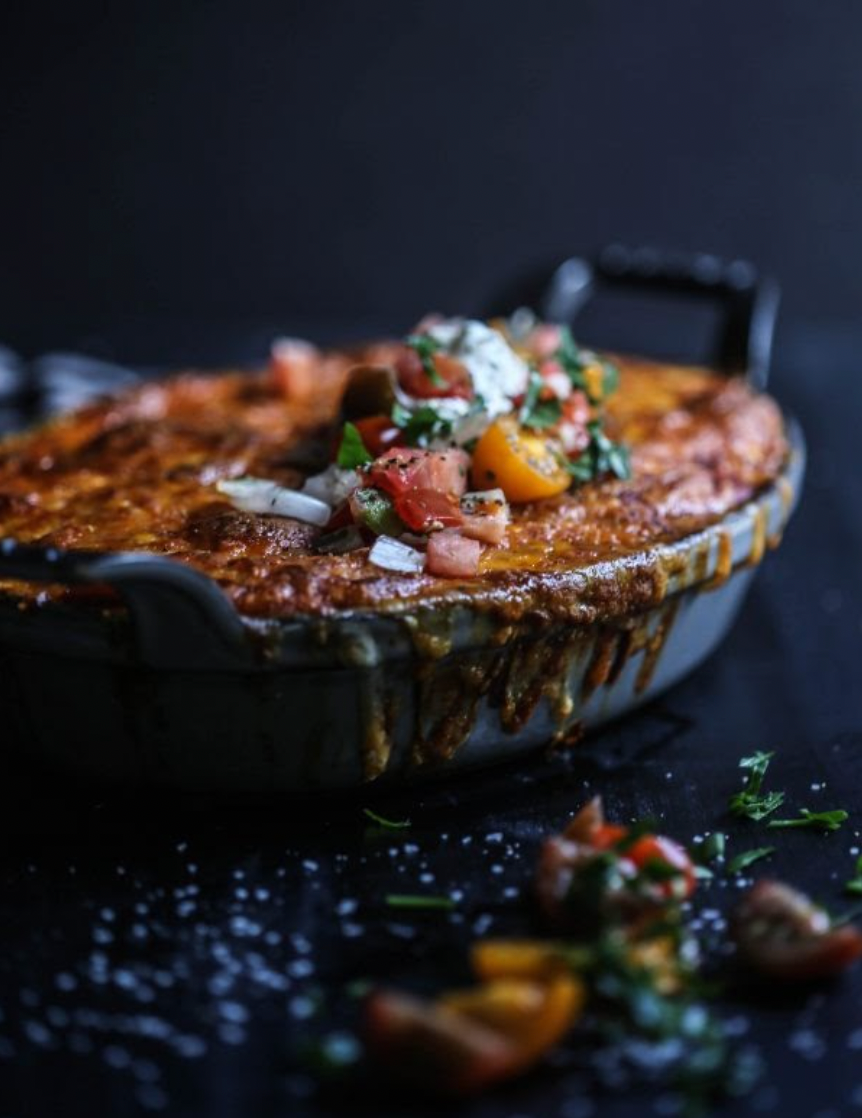 Photo credit: Steve Lee
Up your enchilada weekend game with these Stacked Coho Salmon Enchiladas! Fresh coho salmon baked into a cheesy tortilla topped with red enchilada sauce, pico de gallo, and more cheese! It's a healthier, tastier twist that is a definite must-make!
Ingredients
Salmon and Garnish
3 Copper River Salmon fillets Buy Now
2 tablespoons olive oil
salt and pepper to taste
1 1/2 cups red enchilada sauce
1 cup canned corn, drained
1 cup black beans, drained, rinsed
2 tablespoons jarred jalapeno juice
1 tablespoon lime juice
1 cup cheddar cheese, shredded
4 oz plain cream cheese, room temperature
12 6-inch flour tortillas Pico de gallo, garnish
Sour cream, garnish
Cilantro, garnish
Preheat oven to 400 degrees
Preheat oven to 400 degrees
You will want to use salmon that has a higher oil content to produce an amazing nutty and buttery taste. Copper River salmon or Alaskan king salmon are great options for this recipe.  If that wasn't good enough,  another reason is, when cooking, fat carries flavor. All the soy sauce and brown sugar is carried by the natural oils and dispersed throughout the salmon fillet.
Place Copper River salmon on a baking sheet
Place Copper River salmon on a baking sheet
Sprinkle top with salt, pepper, and olive oil. Place the salmon into the oven and bake for about 12 to 14 minutes. Remove from the oven and allow salmon to cool.
Spray a 11 x 7 baking dish with non-stick cooking spray
Spray a 11 x 7 baking dish with non-stick cooking spray
Pour 1/4 cup of enchilada sauce in the bottom of the baking dish. Top with three overlapping flour tortillas, third of the salmon mixture, and 1/4 cup cheese. Repeat layers two more times. Top with remaining three tortillas and remaining enchilada sauce; sprinkle cheese evenly over the top. Bake for about 15 to 20 minutes or until gold brown on top. Garnish with pico, sour cream, or cilantro!
 Tips
 Tips
Letting the salmon come to room temperature helps the fish cook evenly. If you start with refrigerator-cold fish, the outside will cook much more quickly than the center of the fillet. As a result, the edges may overcook before the center reaches a safe-to-eat temperature.
There's no need to remove the skin for roast salmon. The skin helps protect the salmon flesh to keep it moist as it cooks. Plus, you can eat the skin for an extra dose of heart-healthy omega-3s. It can also make a nice presentation if you serve your salmon skin side up.
***All images and text are by Lauren Grier
Subscribe to our newsletter
to stay up-to-date on our promotions, discounts, sales, special offers and more