Our Favorite Sauces for Salmon Burgers That You Should Try at Home
Salmon burgers are a delicious, easy and impressive meal that you can make at home using fresh salmon and ingredients you likely already have in your fridge and pantry. But wait — this is no beef burger. You don't want to go slathering your salmon with a dollop of ketchup or mustard. Salmon burgers require their own special sauces and the best sauce for salmon complements the fish's natural flavors without overpowering them. 
If you have the salmon part of your salmon burger down, we're here to help with the rest, with 7 salmon burger sauce and topping ideas for your next batch of burgers.
Lemon Dill Sauce 
Lemon and dill are two flavors that pair well with salmon, no matter how you cook your fillet. Mix mayo and mustard with basil, dill, lemon and cayenne pepper for a zesty, flavorful salmon burger sauce. Make sure that your lemon dill sauce has  the right consistency to add a little extra moisture to your salmon burger. After the sauce, top your burger with thin avocado and tomato slices, along with some Bibb lettuce and red onion. (Recipe and photo by Jessica Gavin)
Cajun Remoulade Sauce
For something with a little more of a kick, take your salmon down south with a cajun remoulade sauce. We all know cajun flavors work well with an abundance of seafood, but if you've yet to try them with your salmon, you're missing out. You can make the cajun sauce by combining mayo, garlic, creole mustard, hot sauce, horseradish and more for a truly unforgettable taste. Again, consider topping your salmon burger with lettuce, onion slices and avocado slices. (Recipe and photo by Little Spice Jar)
Avocado Ranch Sauce
If you like the idea of adding avocado slices to your salmon burger, but you'd rather not spend your time in the kitchen carefully pitting and cutting slices of delicate avocado, consider an avocado ranch sauce recipe that allows you to simply throw your avocado chunks in a food processor, add all your other ingredients (such as sour cream, mayo, milk and seasonings and spices), press a few buttons and then top your burger. (Recipe and photo by Evolving Table)
Creamy Garlic Sauce
Never can get enough garlic? If your favorite flavor is all garlic, all the time, you'll love this salmon burger sauce that's simple and contains only four ingredients — mayo, two garlic cloves, lemon juice and heavy cream — plus salt. What we like about this recipe is it has a high return of investment. With only some common ingredients available in your pantry, you can get a restaurant-level salmon burger sauce within 5 minutes. (Recipe and photo by Kitchn)
Sriracha Mayo Sauce
For the easiest salmon burger sauce possible, you won't need to break out your food processor or even a knife. All you need is a spoon and a bowl, to mix up some mayonnaise and sriracha for a simple, easy sauce that pairs well with your salmon. Top your salmon burger with this sauce, some baby arugula and some avocado and you have an easy dinner that's entirely impressive. (Recipe and photo by Skinny Taste)
Creamy Tartar Sauce
Tartar sauce isn't just for fried fish sticks. Elevate your tartar sauce beyond every kid's favorite frozen food and try having tartar sauce on your salmon burgers. The all-grown-up tartar sauce combines mayo, lemon, caper brine, dill, tarragon, salt and pepper for a fresh and creamy flavor and texture that pairs well with your salmon burger and fresh lettuce and tomato slices. (Recipe and photo by Southern Living)
Dill Yogurt Sauce
Does mayo make you shudder? While many of the best sauces for salmon burgers contain mayonnaise, you can find some that avoid it. This simple sauce swaps out the mayo for Greek yogurt, for a more healthful option, and combines it with lemon juice, Dijon mustard and dill, for a new take on your average dill sauce for salmon. (Recipe and photo by The Foodie Physician)
Tips When Making Sauce for Salmon Burgers
Whatever sauce you're making for your salmon burgers, there are a few general tips you'll want to follow, for the best results.
DO pay attention to your consistency.
You don't want a messy, runny sauce on your burger. After all, you're supposed to eat your burger with your hands! If your sauce is too thin, this becomes pretty much impossible. You want to create a sauce that's just the right consistency for spreading, and that's thick enough that it stays in place. 
If you find that your sauce is getting a little too runny, don't be afraid to add in some thickening ingredients, such as more mayo, yogurt or sour cream. Taste as you go and add more seasoning and spices accordingly.
DON'T overwhelm your burger.
You don't want your sauce to be the only thing you can taste on your burger, no matter how delicious it is. So, if you do create a salmon burger sauce with stronger flavors, such as garlic or cajun spices, add it to your burger with a very light touch. A little goes a long way. With lighter options, such as those sauces made with dill or lemon, you can add a little more.
Upgrade Your Salmon Burger with One of These Best Sauces for Salmon
Now that you have ideas on the sauces for salmon burgers at home, make sure to
cook your salmon properly
in the first place. Don't serve a dry salmon burger. The right sauce can help your salmon burger stand out from the pack, bursting with flavors that complement (rather than detract from) your fillet. You may just discover that you never want to serve another boring ol' beef burger again. One last thing, if you haven't tried making a salmon burger with
the infamous Alaskan Copper River salmon
, you should. It is just on another level.
+
Get fresh, sushi-grade Alaskan salmon delivered to your door.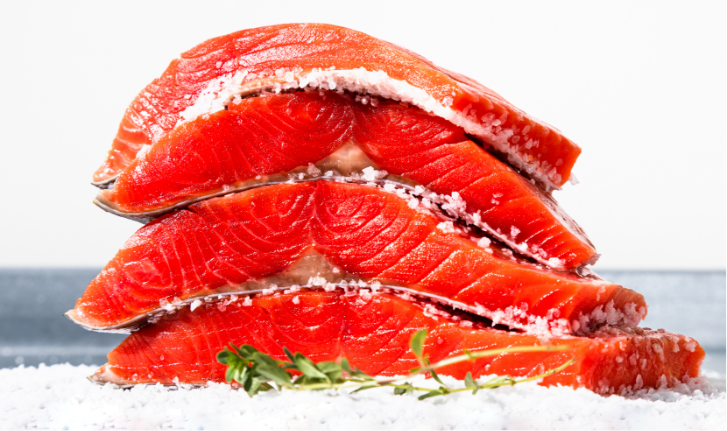 Shop Salmon