How It Works
You deserve to know where your seafood comes from.
1. Choose your plan & set your preferences
Based on your order, our fisherman will catch your seafood using low-impact methods from the best waters throughout Alaska.
2. Prepared with love
We begin our meticulous preparation the moment we bring the salmon on board. We carefully hand-prep, package, and ship directly to you. Alaskan Salmon Company removes all the middlemen and gives you tastier and more nutritious seafood!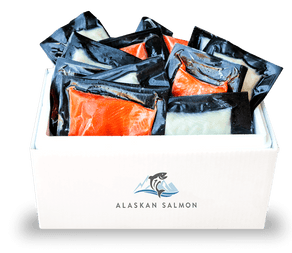 3. Shipped directly to you, wherever, whenever
The salmon is vacuum sealed, then flash frozen at peak freshness, minimizing frost and keeping the cells intact. After being stored in sub-zero temperatures for 3 days, the salmon is sushi-grade and ready to ship out to customers. We then package your order with dry ice and ship overnight directly to your door.
Why Wild-Caught Salmon Is Better
Contains vitamin B12 and D
Salmon is wild-caught, never farmed
Heart and brain healthy omega-3's
Sustainable seafood
In Season
Copper River Salmon

Created for the ultimate salmon lovers! Known for its high heart-healthy omega-3 oil content, our salmon box will fill your freezer with tender and succulent Copper River salmon portions.

Chefs' Selection

Inspired by our work with the top chefs, each month we select a mix of the best Alaskan seafood available—all shipped straight to your door. You will always be surprised and delighted to open your Chef's Special!
Swipe →