How to Cook Copper River Salmon at Home
Have you ever invested in a beautiful fillet of salmon, brought it into your kitchen, and realized you had no idea what to do with it? Salmon is much more versatile than you may think! You don't need to be a trained chef to prepare an impressive and flavorful meal with the finest salmon the ocean has to offer. 
Copper River salmon — sourced from Cordova, Alaska — is known as some of the best salmon in the world, making it a top seafood pick for many home cooks. But if you've never cooked salmon, you might find yourself intimidated by what could seem like a complicated process. You might also be nervous that you will waste your Copper River salmon. Luckily, cooking Copper River salmon isn't as difficult as it may seem and we're here to help. We're going to share tips and methods that you can easily follow to cook Copper River salmon and any salmon perfectly every time.
Make sure to stick around until the end of this article, where we'll share an insider secret on how to maximize your salmon's flavor and texture. You won't want to miss this!
How Do You Cook Copper River Salmon?
When it comes to cooking Copper River salmon, you have a lot of different options. You can…
Bake salmon

Pan fry salmon or cook salmon on the stove

Grill salmon

Poach salmon

Make raw salmon sashimi sushi

Make salmon patties…
The list goes on and on! Whatever type of cuisine you like, you can make salmon a part of it. Here are a few basic tips and tricks we will cover here for cooking salmon easily at home. 
How to Defrost and Thaw Salmon
The best way to defrost and thaw salmon (or most frozen proteins, really) is in the fridge. Place your frozen salmon in your fridge about 24 hours before you want to cook it, for best results.
If you don't have 24 hours, you can quickly thaw your salmon using the sink method. Fill a bowl, or your kitchen sink with cool water (below 38 °F). Submerge the salmon in the water, making sure to change out the water if it becomes warm. This will take 20-45 minutes depending on the size of fillet.
How to Season Salmon 
To have a good salmon dish, fresh salmon is a must. Nothing can beat fresh salmon. In fact, the seasoning should work to enhance or to bring out the taste and the richness of the fish itself. Make sure that the salmon is completely thawed before you season it. Now let's talk about the enhancing flavors. Smoky, sweet, salty, spicy — you can make just about any flavor profile work with salmon. Gently pat the fish dry before you season it. 
For a fresh, summer taste, season your salmon with fresh citrus (lemon, lime or even orange will work) and herbs, like mint, chives or dill. (Try this Citrus Roasted Salmon recipe. You are welcome!). If you're in the mood of something fresh and healthy, you can lightly season your salmon fillet and have it with a salad.
For a sweeter flavor profile, try maple syrup, honey or brown sugar. Combining sweetness with savory is a great way to go, especially on Copper River salmon that has a buttery texture due to its high Omega-3 content. We have a Honey Garlic salmon recipe that is easy for any home cook to master. No technical cooking skill required.
The salty goodness of soy sauce, miso and capers works well with salmon, too. For flavors that will make an impact, go strong, with garlic or ginger, sesame or horseradish. 
Or, our personal favorite, you can let the rich, nutty flavors of your Copper River kings and sockeyes speak for themselves with minimal seasoning, like salt and pepper,  and a quick sear! 
Pan-Frying: How to Cook Salmon on the Stove
Once you've settled on how to season your Copper River salmon, it's time to get cooking. If you simply want to cook your salmon on the stove top, pan frying is an easy method that anyone can master. It takes only a few minutes and very few ingredients. 
Just season your salmon, place it skin-side up in a pan of hot oil. Make sure that your pan is non-stick so you can flip your salmon fillet easily without breaking it. You can easily use a non-stick pan or a well-seasoned cast iron.
Fry the salmon for 3 minutes, then flip it and cook for another 4 to 6 minutes or to desired doneness. Check out our tips about how to know when the salmon is done below. Food Network breaks the process down further, if you want a step-by-step guide.
How to Bake Salmon
If you'd rather avoid all the flipping and prefer dinners you can toss into the oven and let cook while you get on with your life, give baking Copper River salmon a try. 
Baking salmon is a very easy cooking method. All you have to do is preheat your oven to 450 degrees, season your salmon as desired and place it skin-side down on any greased or non-stick oven-safe dish or baking sheet. Place your salmon in the oven when your oven is ready. Bake the salmon for up to 15 minutes. Literally, that's it. For tips on how to check if your salmon is perfectly cooked, see our detailed tips below. 
How to Grill Salmon 
Who can turn down the taste of freshly grilled salmon, especially if  it's Copper River salmon? Certainly not us!
If you want to break out the barbecue and grill up some salmon for dinner, the process is easy enough. Grilling salmon is a little more involved than baking salmon (as you'll need to clean your grill, prep the fish and keep a careful eye on it), but if you're up for the challenge, the end result can be well worth your efforts. 
For a full guide (with photos!), check out this Food Network article. The basics, though, are as simple as allowing your salmon to come to room temperature and patting it dry; cleaning your grill and coating it with olive oil; heating your grill so that you have two areas of heat, one higher than the other (one for searing and one for finishing); seasoning the fish as desired; searing the salmon skin-side down on your grill's "hot zone" for about 8 minutes; and then flipping the fish and moving it to the cooler area of your grill to finish cooking for about 4 minutes.  
How to Make Salmon Patties 
If you've nailed baking salmon, take your salmon cooking adventure a step further by using your baked salmon to make salmon patties. 
All you need to do is take the baked (and completely cooled) salmon, flake it into a mixing bowl, and combine it with the other salmon patty ingredients. Typically, these ingredients are very similar to what you might use in a crab cake. Here's a recipe to try that includes standard pantry ingredients.  

How Do You Know When Salmon is Done? 
This will be based on your personal preference for texture and flavor. However, if you are unsure, here are some general guidelines. 
No matter how you cook your salmon, you want to ensure it's done before you serve it. The FDA recommends that you cook your salmon until it reaches an internal temperature of 145 degrees. To measure this, insert a cooking thermometer into the thickest portion of your Copper River salmon filet. But, as we all know from our favorite sushi spots, high quality salmon is also safe to eat raw. So how do you know when your salmon is cooked to perfection? 
At an internal temperature of 145°F, your salmon will be more dry and not as tender. If this is your preference, then the 145°F mark is perfect for you. If you'd prefer a juicier, more delicate outcome, you will want to aim for an internal temperature of  120 °F. If you don't have a thermometer, or would like a more visual indicator, the quickest and most effective way to know when your salmon is perfectly cooked is to press against the fillet with a fork to see how tender it is. If the salmon begins to "flake," or rather, comes apart and separates, it's done.  
Pro Tip: To prevent overcooking, remove the salmon from heat while it's still slightly undercooked. While you plate the salmon, it will further cook to perfection as it rests, preventing any tough or chewy texture. 
Insider Secret: How to Prep Copper River Salmon
Often overlooked, how you prep your salmon before any of the seasoning or cooking begins, separates the good meals from the exceptional. 
The preparation process takes only a few minutes to master but will make it appear like you've been an expert for years.
The whole point of this step is to pull out the excess moisture, boosting the natural flavor of your salmon and giving it an even firmer, more substantial texture. We want you to succeed, so here's a quick rundown of how to do it.
After your salmon is completely thawed, cover the fish with a good layer of salt. If you have enough on hand, we recommend covering it completely - leaving no meat visible to the eye. 
After 5 minutes of allowing the salmon to rest, blanketed in salt, bring it to your sink and give it a good rinse.
Move your salmon to your cutting board and gently pat it dry. Now, before you've even begun your recipe, the texture and pure salmon flavor have been elevated. It's so simple and profound, it almost feels like cheating.
Make sure to tag us on facebook or instagram when you post about your amazing meal. We can't wait to see what you create! 
Fresh Copper River Salmon Delivered to You
Now, you can try out any delicious salmon recipes at home by ordering your wild Copper River salmon right here, at Alaskan Salmon! We have been providing top restaurants across the nation for the past 10 years. Now, we are bringing wild Alaskan Copper River salmon to home chefs for an elevated at-home meal experience.
+
Get fresh, sushi-grade Alaskan salmon delivered to your door.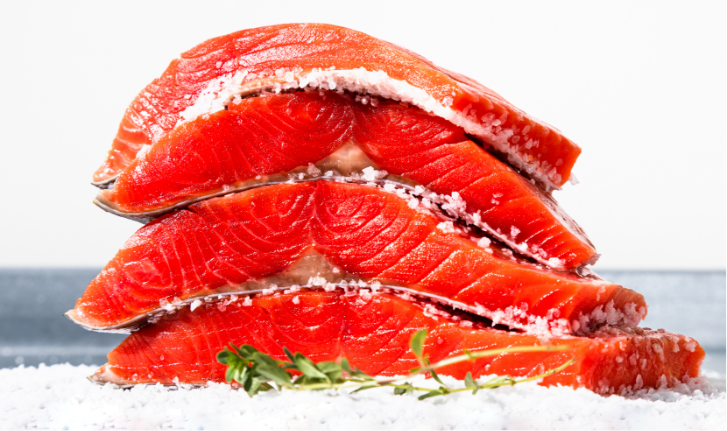 Shop Salmon