Teriyaki Salmon Rice Bowl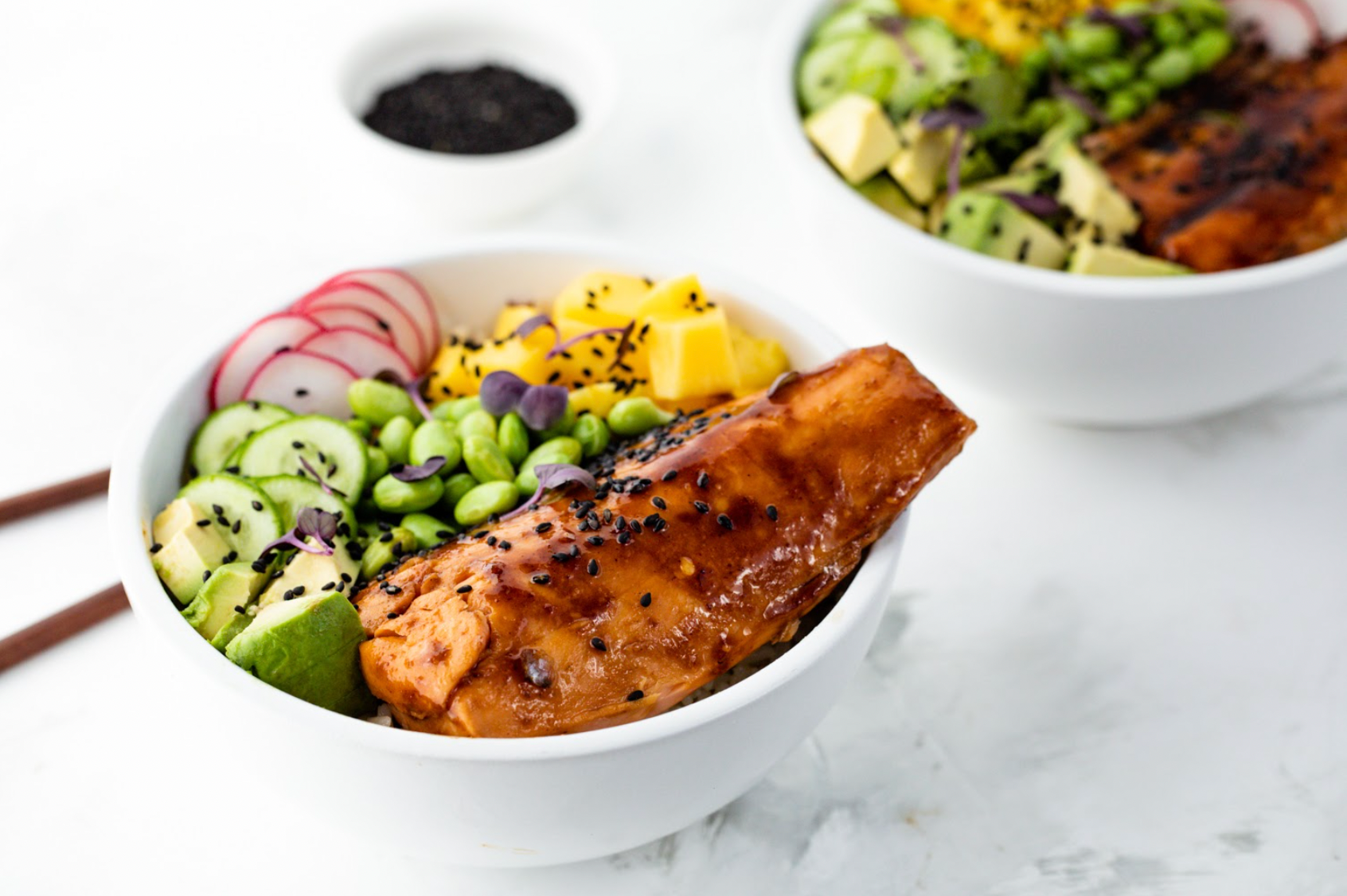 Photo credit: Steve Lee
This recipe combines delicacies of the two non-contiguous US states: Alaskan Copper River Salmon and Hawaiian poke.
Ingredients
Salmon and Vegetables
2 6-ounce Copper River Salmon fillets Buy Now
1 cup sushi rice
2 teaspoons soy sauce
2 teaspoons honey
1 tablespoon hoisin sauce
1 teaspoon chili-garlic sauce
1 mini cucumber, sliced thinly
1/2 cup edamame
2 radishes, sliced thinly
1/2 avocado, diced
1/2 mango, diced
1 tablespoon black sesame seeds
Preheat the oven
Preheat the oven
Preheat the oven to 400°F. Line a baking sheet with parchment paper.
 Combine the rice
 Combine the rice
In a small saucepan, combine the rice with 2 cups of water and a pinch of salt. Bring to a simmer, reduce the heat to low, cover and simmer for 20 minutes. Turn off the heat and fluff the rice with a fork.
 Whisk
 Whisk
Meanwhile, in a small bowl, whisk together the soy sauce, honey, hoisin sauce and chili-garlic sauce.
 Bake
Bake
Place the salmon on the prepared baking sheet and pat it dry. Cover it with the sauce. Bake for 8-10 minutes, until cooked through.
 Divide
 Divide
Divide the rice between bowls and top with salmon, cucumbers, edamame, radishes, avocado, and mango. Sprinkle with sesame seeds.
 Tips
 Tips
This teriyaki salmon poke recipe works for any variety of salmon. But for the best flavor and texture, choose wild Alaskan salmon. 
Patting the salmon dry helps the sauce adhere better for more flavor.
You can swap out sushi rice for short- or long-grain white or brown rice. Or, another grain like quinoa, farro, or millet would work. For a low-carb version, use mixed greens or baby spinach as a base to your poke bowl.
This recipe is oil-free, nut-free, gluten-free, and free of refined sugars.
You can use another sweetener instead of honey, such as agave or maple syrup. Coconut sugar will also work.
You can make extra sauce to drizzle on top, just be sure you don't contaminate it with a spoon that has touched the raw fish.
Other topping ideas include:

Seaweed salad

Shredded cabbage

Other fruit, such as peaches, kiwi, or pineapple

Chopped nuts, such as macadamia or cashews

Shredded carrots
Subscribe to our newsletter
to stay up-to-date on our promotions, discounts, sales, special offers and more