Delicious Beer Battered Salmon Tacos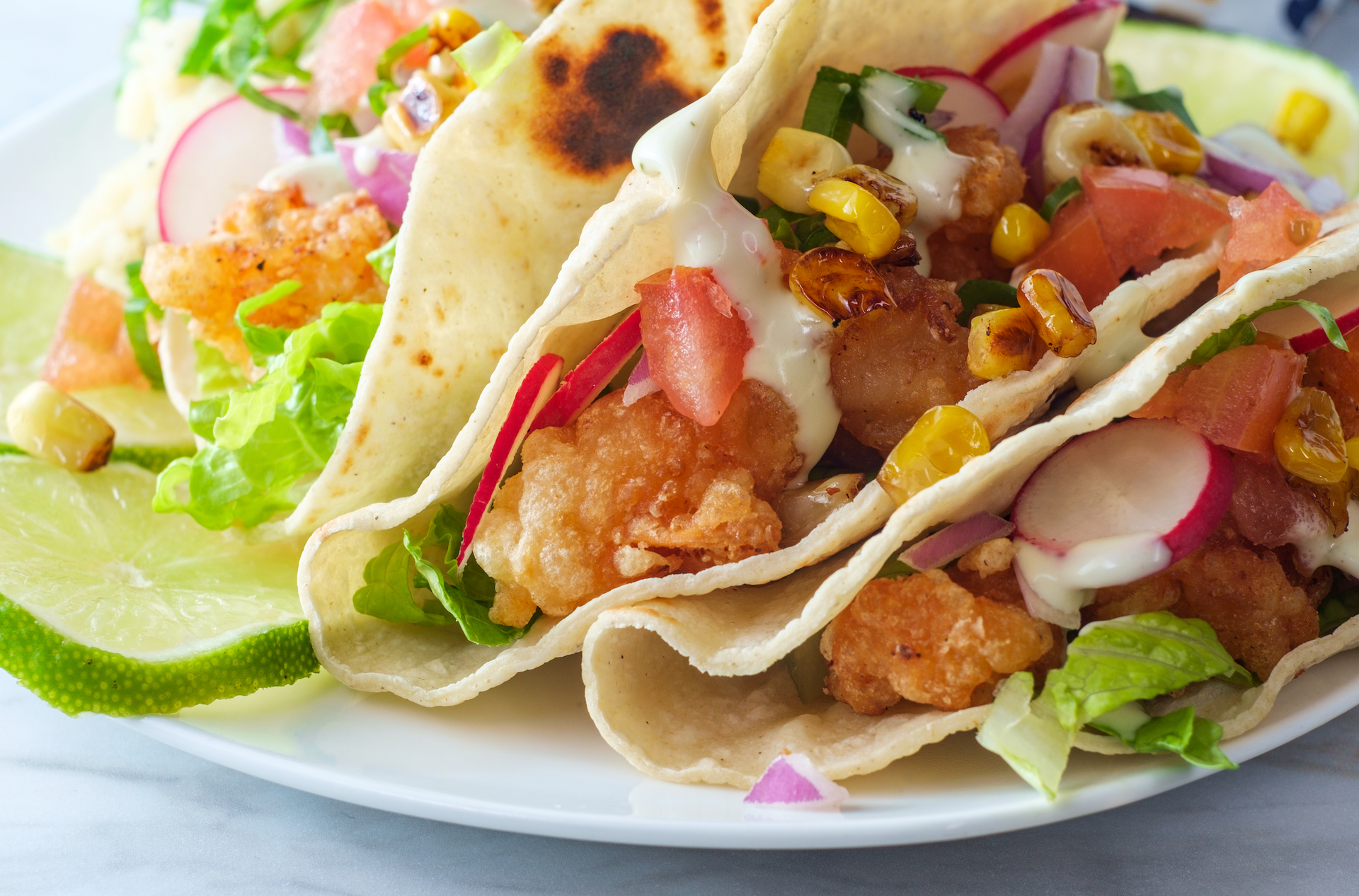 Photo credit: Steve Lee
Elevate your next taco Tuesday with your favorite wild Alaskan Salmon!
Ingredients
TACO
4 sockeye salmon fillets(5-6 ounces each), skin and pin bones removed, cut into 1-2 inch cubes Buy Now
12 corn of flour tortillas
1 quart vegetable oil for frying
1 cup all-purpose flour
1 cup beer
1 teaspoon sea salt
1 teaspoon ground pepper
1 teaspoon dried oregano
2 teaspoons chili powder
2 limes, wedged
AVOCADO CILANTRO AIOLI
1 Avocado
1 cup sour cream or greek yogurt
1/4 cup cilantro
Pinch of salt and pepper
Pinch of cumin
GARNISH
Lime wedges
Shredded cabbage
Chopped fresh cilantro and green onions
Prepare
Prepare
Prepare the salmon, removing the skin is optional.
Wrap tortillas
Wrap tortillas
Wrap tortillas in foil and put them in the oven at 200 degrees for 10-15 minutes to warm them up.
 Dressing
 Dressing
Make the Avocado Cilantro Aioli dressing. Simply combine all ingredients in a blender and blend until smooth and set aside.
 Heat
Heat
Heat oil slowly in a deep pot until it reaches 360 degrees.
 Make the batter
Make the batter
Combine flour, sea salt, ground pepper, oregano, and chili powder. Mix until evenly distributed, then add beer and whisk until smooth. 
 Dip the salmon
Dip the salmon
Dip the salmon fillets into the batter. Make sure to coat the fish evenly.
 Fry
 Fry
Slowly drop the battered salmon into the hot oil. Fry the fish for about 2-3 minutes on each side until golden brown.
 Transfer
 Transfer
Transfer to a plate lined with a paper towel to absorb the excess oil. Repeat step 6 & 7 until all the salmon fillets have been cooked.
 Assemble
 Assemble
Assemble tacos with salmon, garnishes, and aioli.
Bonus Tip
Bonus Tip
Here is a recipe fit for a large family or Taco Tuesday gathering. If you are looking for something more intimate, reduce all the ingredients by half.
Use cold beer to make it crisp, you can also substitute beer with cold water if you do not want to use beer. Cold batter prevents the flour to absorb too much oil which will lead to a soggy batter.

Do not overmix the batter. Overmixing the batter will develop gluten from the flour and you will end up with a gummy and soggy batter.

For a gluten-free option, you can substitute the all-purpose flour with cornstarch.

Frying in batches will avoid too much temperature drop when frying. This gives you a better control too.

For an elevated taco experience at home, choose fresh wild Alaskan salmon. Your beer-battered salmon will be crispy outside, moist and buttery inside.
If you want a lighter batter, try our grilled salmon taco recipe.
Subscribe to our newsletter
to stay up-to-date on our promotions, discounts, sales, special offers and more