Tasty Alaskan Salmon Musubi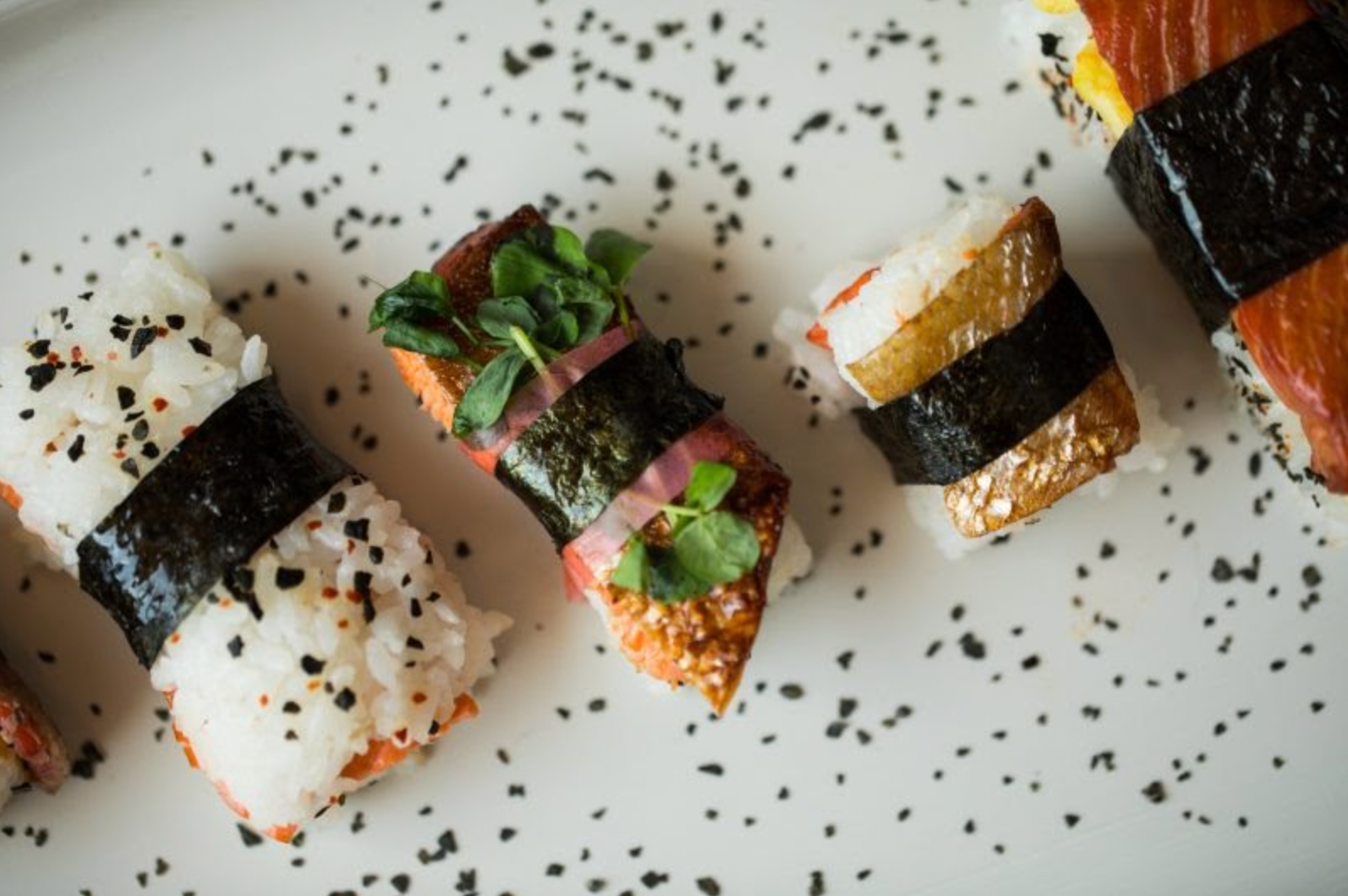 Photo credit: Steve Lee
Spam musubi is a comfort food that everyone enjoys.
Ingredients
Ingredients
2 Copper River Salmon fillets (5-6 ounces each, pin bones removed, cut into 2x3-inch strips) Buy Now
2 cup uncooked sushi rice, rinsed in cold water until water runs clear
3 tablespoons soy sauce
3 tablespoons brown sugar
1 tablespoon hoisin sauce
2 sheet toasted nori, cut into 8 strips
3 eggs, lightly beaten (optional)
1 teaspoon of mirin
Furikake seasoning
Clean and cook
Clean and cook
Clean and cook the rice according to packaging instructions and set aside.
 Remove Pin Bones
 Remove Pin Bones
Remove pin bones from salmon
 Mix
 Mix
Combine soy sauce, brown sugar and mirin in a medium sized bowl. Add the salmon pieces and cover the bowl and let it marinate for 15 minutes.
Optional
Optional
Heat a small nonstick pan over medium heat. Spray with cooking spray and add the egg to make a thin omelet. Once cooked through, remove from the pan, let cool and cut into 2 inch wide strips.
Heat
Heat
Heat a large nonstick pan over medium heat. * Place the salmon skin side up and cook for approximately 2-3 minutes. Then flip the salmon with the skin side down for the remainder 3-4 minutes, or until desired doneness and remove skin. Remove pan from heat.
Form Rice
Form Rice
Wet your hands and form rice into a block shape. Place rice on a piece of plastic wrap or wax paper and sprinkle with furikake seasoning. Add a couple of strips of egg and a strip of salmon.
Wrap
Wrap
Lay a strip of nori, rough side up, on a cutting board and carefully set the rice, egg and salmon block upside down in the middle of it. Wrap nori around block and seal the strip to itself with a little water. Repeat steps 5 and 6 with remaining ingredients.
Bonus Tips
Bonus Tips
You will want to use salmon that has a higher oil content to produce an amazing nutty and buttery taste.  Copper River salmon or Alaskan king salmon are great options for this recipe.  If that wasn't good enough,  another reason is, when cooking, fat carries flavor. All the soy sauce and brown sugar is carried by the natural oils and dispersed throughout the salmon fillet.

If you have the extra time, marinate the salmon for 4 hours in the refrigerator, and if you want some sweet heat, add some fresh cut jalapenos into the marinade

Allow the salmon to reach room temperature before cooking. This will help the salmon to cook evenly.

You can fry the salmon skin for an additional side of chips with heart-healthy omega-3s.
Subscribe to our newsletter
to stay up-to-date on our promotions, discounts, sales, special offers and more