Summer Crispy Salmon Salad
Prep time: 15 minutes
Cook time: 8 minutes
Serves: 2 
Ingredients
⅓ cup pistachios, coarsely chopped
4 ounces goat cheese
1 head romaine lettuce
4 leaves basil, sliced
1/2 cup cucumber, thinly sliced half moons
1 cup strawberries, quartered
1 cup grape tomatoes, halved
1 tablespoon olive oil
8 ounce salmon, skin removed
½ teaspoon kosher salt
¼ teaspoon black pepper
1 teaspoon granulated sugar
2 tablespoons balsamic reduction
Instructions
1. Prepare pistachio cheese balls: divide the goat cheese into roughly 8 balls. Press down and fully coat the goat cheese with the crushed pistachios. Set aside.
2. Preheat a medium non-stick skillet with oil over medium high heat. Once the skillet is hot, sear the salmon for about 3 minutes on both sides until golden brown.
When you see that both sides are nicely golden, start to break up the salmon into smaller pieces with a wooden spoon so that the sides are now exposed to the oil. Season with salt, pepper, and sugar. The pieces of salmon should start to caramelize and get crispy, about 2 minutes. Remove from the pan and transfer to a plate lined with paper towels.
3. Assemble the salad: Among two bowls, equally divide the romaine lettuce, basil, cucumbers, strawberries, and tomatoes. Top with salmon pieces, pistachio cheese balls, and a drizzle of balsamic reduction.
+
Get fresh, sushi-grade Alaskan salmon delivered to your door.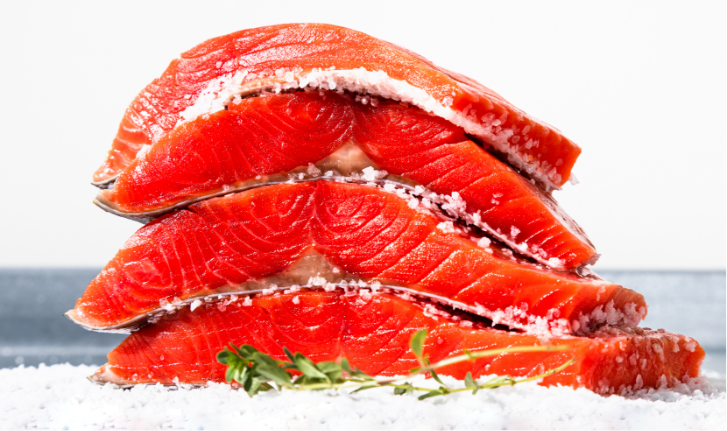 Shop Salmon