Simple Spiced Salmon Lettuce Boats (Keto)
Prep time: 5 minutes
Cook time: 12 minutes
Serves: 2
9 ounce salmon, skin-on
¼ tsp garlic powder
¼ tsp chili powder
¼ tsp onion powder
¼ tsp cayenne powder
¼ tsp smoked paprika
¼ tsp kosher salt
½ tsp black pepper, divided
¼ cup mayonnaise
6 pieces romaine lettuce
½ cup cherry tomato, halved
½ cup cucumbers, diced
½ cup pickles, quartered
Instructions
1. Preheat the oven to 350F and line a baking sheet with foil.
2. In a small bowl, mix together garlic powder, chili powder, onion powder, cayenne powder, smoked paprika, salt, and ¼ tsp of black pepper.
3. Place the salmon on the baking sheet skin-side down and sprinkle half of the spice rub on the salmon. Generously spread the mayonnaise on top of the salmon and sprinkle the remaining spice rub over the salmon.
4. Bake the salmon for 12 minutes. Test for doneness by pressing down on the thickest side of the salmon to see if it flakes. If it flakes, it is done. Let the salmon rest for 5 minutes.
5. Prepare the veggies
6. Assemble the salmon boat: arrange the romaine lettuce on medium plates and fill with baked salmon. Top off with tomatoes, cucumbers, pickles, and black pepper.
+
Get fresh, sushi-grade Alaskan salmon delivered to your door.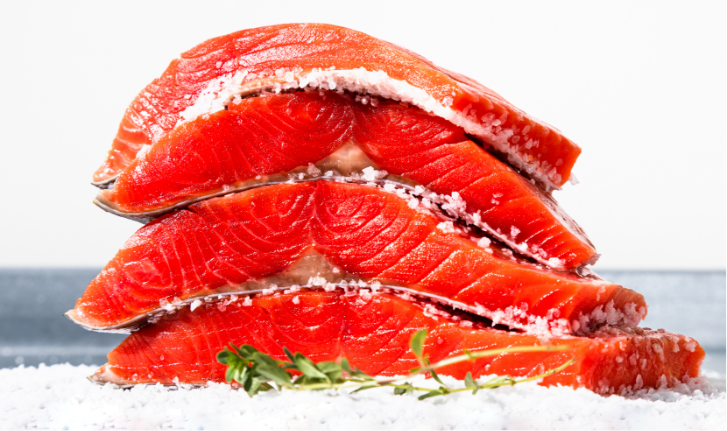 Shop Salmon