Best Seasoning for Salmon (Plus Tips on How To Season It)
Salmon is a very versatile fish, which means it can be incorporated into a variety of recipes, regardless of cuisine style. Just about any way you want to cook or season salmon, you can. However, the huge number of options available to home cooks when preparing salmon can sometimes feel overwhelming rather than freeing. 
If you're looking for what to season salmon with, when you're just not sure where to start, you've come to the right place. Here are the basics on how to season salmon, plus ideas for salmon marinades and spice rubs.
Basic Salmon Seasoning
There's no need to get overly fancy or complex with your salmon seasoning. If you're cooking up a quick baked salmon dinner or pan-frying a salmon filet for serving atop a salad or pasta, just some simple salt and pepper will do.
When seasoning salmon with salt and pepper, you'll still get to enjoy the rich flavors of the fish, without masking them behind heavy seasonings or spices. Just sprinkle your salmon with a little salt and pepper before cooking, at the same time that you add any oil to your salmon, if desired.
Feel more comfortable working with a recipe? Check out this recipe from Food Network and Tyler Florence that pairs a simply-seasoned salmon filet with salt, pepper, butter and olive oil, alongside a hearty side dish of smashed new potatoes with peas, lemon and pearl onions. It's your entire dinner, sorted. 
Read: How to Thaw Frozen Salmon
Best Fresh Herbs for Salmon Seasoning
If, though, you want to get a little more creative, you can add some fresh herbs to the mix. Don't forgo the salt and pepper completely — you still need those ingredients as your base — but just add a little bit of other herbs and spices on top.
Three herbs that always go well with salmon include rosemary, thyme and basil. Rosemary is an especially nice choice if baking your salmon, as you can lay whole sprigs in the bottom of your baking dish or on your parchment paper-lined sheet pan, and then lay the salmon filet directly onto the fresh rosemary. You can do the same thing with fresh thyme sprigs. If using basil, just sprinkle the finely chopped leaves atop the filet before cooking. 
3 Easy Salmon Marinades 
The best seasoning for salmon isn't always a combination of herbs or salt and pepper, mixed with olive oil and applied to your filet before cooking, however. Sometimes, you may prefer to marinate your salmon — especially if you're grilling the salmon and want to infuse your filets with extra moisture, as well as flavor, before they hit the grates.
1. Grilled Salmon with Honey-Soy Marinade
Photo and Recipe by Betty Crocker
For a simple marinade that uses pantry staples that you likely already have on hand, consider this grilled salmon recipe from Betty Crocker. It combines brown sugar with honey, soy sauce and garlic, for a slightly sweet flavor that goes great with fresh, grilled veggies or even a simple side of rice. The best part? This recipe won't require you to let your salmon soak in the marinade overnight — all it takes is an hour of soaking in the fridge.
2.Salmon Marinade with Lemon, Garlic and Herbs
Photo and Recipe by The Seasoned Mom
If, though, you'd rather not indulge in the sweet flavor profile of the above recipe, you can opt for a more savory, bright marinade, like this one. There's still a little bit of honey in the marinade, but it contrasts very nicely with the lemon juice, red wine vinegar and array of fresh herbs like rosemary and basil. 
3. Mediterranean-Style Salmon Marinade
Recipe by Shadi HasanzadeNemati on Unicorns in The Kitchen
If you plan on serving your salmon alongside your favorite Greek salad, consider opting for this simple Mediterranean-style salmon marinade. With a bit of oregano, garlic and zesty red pepper, the marinade works well for longer periods of marinating (like while you're at work) and then keeps your salmon filets moist while they bake in the oven. 
Whatever marinade recipe you use, however, make sure to always marinate the filets for at least half an hour, to get the full flavors of your marinade, but not longer than a few hours. You definitely don't want to allow your salmon to marinate overnight, like you might with other proteins, as this can deteriorate the salmon's texture. 
3 Spice Rubs for Salmon 
Prefer to keep things dry, but still would prefer a more robust flavor profile than what a simple combination of salt, pepper and herbs will give you? You might prefer to season your salmon with a spice rub. While you can buy specially-made spice rubs intended for use on salmon at the grocery store, you can also easily make your own at home. 
1. Magic Salmon Seasoning
Recipe by Sanja Overhiser on A Couple Cooks
For a salmon seasoning blend that's a bit smoky and full of robust flavor, try this option that works well, whether you want to bake, grill or pan-fry your salmon. It combines paprika with garlic powder, thyme, cumin, allspice and other ingredients and a little goes a long way. You'll only need to use one tablespoon of the seasoning blend per every half pound of salmon you're cooking.
2. Cajun Salmon Spice Rub
Recipe by Kristen McCaffrey on Slender Kitchen
For grilled salmon with a Cajun flair, try this spice mixture that blends coriander, cumin, paprika and other spices. After you apply the rub, you'll want to let the salmon sit for a spell to soak in all the flavors, but you'll find the wait time is much less than what you'd need for a comparable marinade. 
3. Indian Spice Rub for Salmon
Recipe by Tablespoon
If it's Indian flavors you're craving, this spice rub delivers. With garam masala, ground ginger, cumin, curry powder and more, the recipe makes just enough for four wild Alaskan salmon filets. 
Read: Salmon Storage Tips
Make Something Delicious 
Whether you opt for a spice rub or a marinade or just a basic salt and pepper mixture, enhancing the flavor of your fresh salmon filets is easy — but you need the salmon filets first. That's where Alaskan Salmon Company can help, delivering fresh, flash-frozen, wild-caught salmon filets directly to your door. 
+
Get fresh, sushi-grade Alaskan salmon delivered to your door.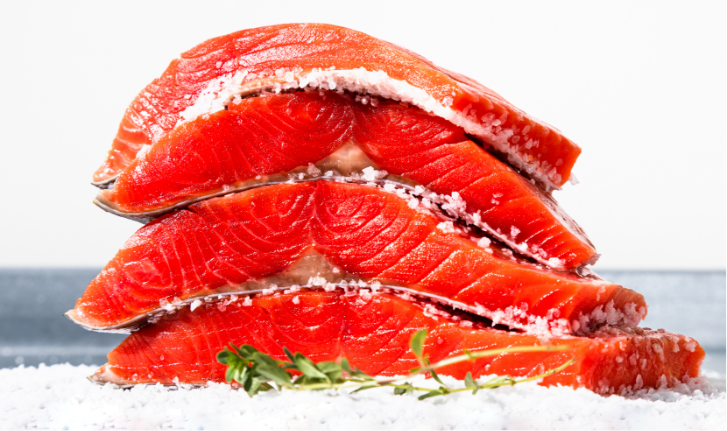 Shop Salmon