12 Easy Salmon for Breakfast Ideas
Salmon is an incredibly versatile fish. You can grill it, sauté it, bake it or even air fry it. You can pair it with pasta, veggies, rice and other starches. You can include it in your favorite cuisines from all around the world, from Italian to Thai to Caribbean. But if you've yet to add salmon to your favorite breakfast recipes, you're missing out.
While smoked salmon breakfasts that consist of bagels, lox and cream cheese are familiar, and salmon breakfasts consisting of eggs benedict topped with salmon are likewise a staple on many brunch menus, this fish can be served for breakfast in so many other, creative ways. Here are 12 salmon breakfast ideas that you may just want to try first thing tomorrow morning. 
Simple Salmon and Eggs 
Not a lot of time or need something easy and fast? This simple salmon and eggs recipe comes together in less than 15 minutes, so you can get a delicious and nutritious breakfast on the table in a snap. Salmon makes a great healthy alternative to your typical, fatty breakfast meats. Combine your salmon and scrambled eggs with sliced avocados or your favorite fruit and you have a well-rounded breakfast that's sure to please. Add half-and-half to your eggs for a richer taste -- milk or water will work too. This recipe is also perfect for any leftover salmon.
Recipe and image by Fifteen Spatulas
Salmon Hash with Poached Eggs 
If you cooked some salmon on a Saturday night and want to reuse those leftovers the next day, consider incorporating your leftover salmon into a tasty and quick breakfast dish. This hash recipe combines leftover, flaked salmon with potatoes, bacon, onion, eggs and chives for a hearty and savory breakfast that will keep you full until lunchtime. 
Recipe by Grace Parisi, Image by Lucy Schaeffer
Smoked Salmon Breakfast Tacos
Who doesn't love breakfast tacos? This delicious and easy breakfast taco recipe swaps your traditional bacon, sausage or chorizo out for smoked salmon and your typical cheddar cheese for cubed cream cheese. Stack your corn tortillas high with eggs, onions, smoked salmon, cheese, chives and a splash of lime juice for a tasty, Mexican-inspired breakfast that's just as fun to eat as it is tasty. 
Original recipe and image on Well Seasoned Studio
Smoked Salmon Breakfast Toast
If you want a quick and easy breakfast similar to lox and bagels, but you're all out of bagels, opt for this quick smoked salmon breakfast toast recipe. Toast your favorite bread to perfection and then top it with smoked salmon, cream cheese and a sprinkling of dill, salt and lemon juice, for an easy weekday breakfast that starts your morning off on the right foot. 
Recipe and Image by Zested Lemon
Crème Fraîche Scrambled Egg and Smoked Salmon Sandwiches
For a bagel-free breakfast sandwich that you can take on the go, try this smoked salmon sandwich recipe that whips crème fraîche into the scrambled eggs for a light, airy, decadent texture that you're sure to love. If you don't have any crème fraîche on hand, you can swap it out for sour cream. 
Recipe by Olivia Mack McCool on The Kitchen, Image by Karla Conrad
Smoked Salmon Egg Boats
If you've yet to discover egg boats, it's time for you to fall in love with this classic brunch staple. Long baguettes are hollowed out to form boats that are then filled with smoked salmon, cheese, eggs and other tasty ingredients, like capers. Then, the boats are baked until the egg mixture is set, about half an hour. The boats can then be sliced or served whole. Think of it like a bread bowl, but filled with fluffy baked eggs rather than soup. Learn how to make smoked salmon egg boats with this handy recipe. 
Original Recipe posted on The Kitchen, Image by Kimberley Hasselbrink
Smoked Salmon Breakfast Bowl
Looking for a grain and gluten-free breakfast, but struggling to find breakfast recipes that don't rely on bread? This smoked salmon breakfast bowl may just be your perfect fit. Filled with tasty, fresh veggies, eggs and salmon, it combines a range of flavors and textures for a healthy and protein-packed breakfast that can be customized to please everyone in the family.
Recipe and image from Clean Food Crush
Salmon Breakfast Croquettes
If you have a little extra time on any given evening, you can prep these croquettes and let them refrigerate overnight, so all you need to do in the morning is fry them. This recipe is a particularly good way to use up leftovers such as leftover baked or poached salmon and leftover mashed potatoes.
Recipe and image from Food Network Magazine


Smoked Salmon Frittata
Frittatas are the casserole of the breakfast table. All you need to do is layer all of your chosen recipe's ingredients in an oven-proof skillet, cook the bottom on the stovetop before transferring it to the oven and then let the combination bake until golden brown. This recipe pairs large strips of smoked salmon with eggs, tomatoes, red onions and capers.
Recipe and image by Baker by Nature
Hash Brown Bake with Eggs and Smoked Salmon
For a similar, easy, baked breakfast, but with more of an emphasis on everyone's favorite starchy veggie — the potato — try this hash brown bake with eggs and smoked salmon. Cream cheese and sour cream lend the hash browns a creamier texture that pairs well with the salmon.
Recipe and image by Rachael Ray
Smoked Salmon Crepes
For a French-inspired breakfast or brunch, break out your crepe pan for these savory salmon crepes. If you've never made crepes before, they're easier than you might think and are an impressive addition to any brunch spread.
Recipe and image by Tatyana's Everyday Food
Smoked Salmon Brunch Platter
If you love charcuterie boards and similar serve-yourself snacking options for get-togethers with friends and family, you'll love this smoked salmon brunch platter idea that's similar to your favorite charcuterie spread. It lays out lots of delicious brunch-ready ingredients so diners can mix and match their favorite flavors and textures for a brunch bowl or topped toast of their own creation. This particular platter matches smoked salmon with soft-boiled eggs, sliced tomatoes and avocado, cream cheese and more.
Recipe and image by How Sweet Eats

Salmon for Breakfast, Lunch and Dinner
There's hardly ever a bad time to enjoy a deliciously cooked filet of salmon. Whether you're putting together a beautiful brunch, looking for a quick weeknight dinner idea or breaking out the barbecue for the season, be sure to follow the Alaskan Salmon Company blog for more recipe ideas.

+
Get fresh, sushi-grade Alaskan salmon delivered to your door.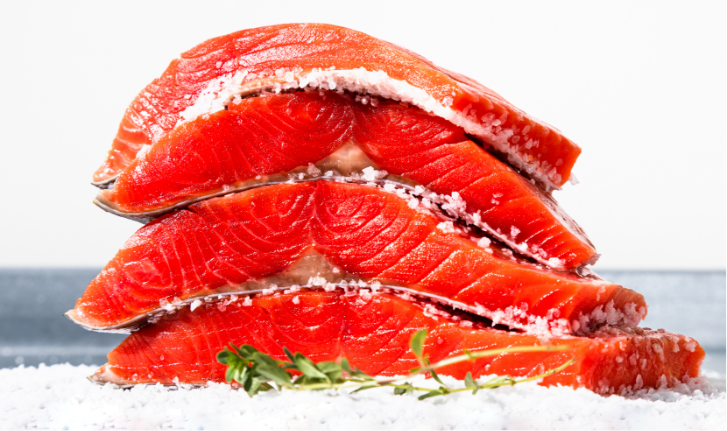 Shop Salmon