Keto-friendly Caprese Stuffed Salmon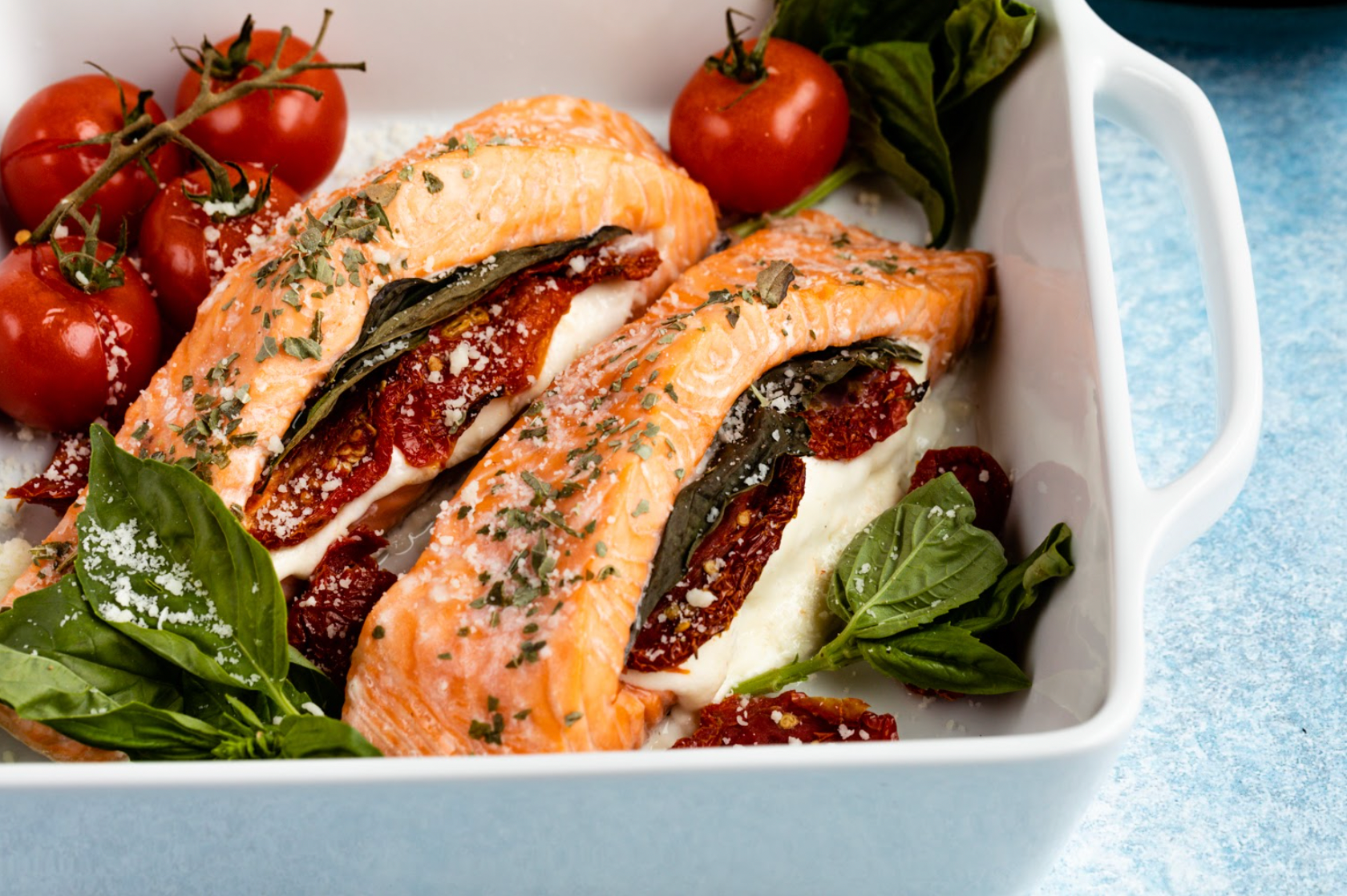 Photo credit: Steve Lee
Fill Copper River salmon fillets with gooey melted mozzarella, umami-rich sundried tomatoes, and fresh basil for a flavorful and impressive dinner recipe that's quick and easy to throw together.
Ingredients
Ingredients
2 8-ounce Copper River salmon fillets Buy Now
Salt and pepper to taste
4 ounces fresh mozzarella, sliced into ¼ inch rounds
4-5 sun dried tomatoes
4 large fresh basil leaves, plus more for garnish
1 bunch tomatoes on the vine
Olive oil
 Preheat
 Preheat
Preheat the oven to 350°F. Lightly grease a baking dish
Place the salmon
Place the salmon
Place the salmon fillets on a cutting board and use a sharp knife to cut ¾ of the way through the salmon down the center. Make a pocket, rather than cutting all the way through.
 Season
 Season
Season the salmon and the mozzarella slices with salt and pepper.
Fill
Fill
Fill the pocket in the salmon fillets with slices of mozzarella, then with sundried tomatoes and basil leaves.
Sprinkle
Sprinkle
Place the stuffed salmon in the prepared baking dish along with the tomatoes. Drizzle the salmon and tomatoes with olive oil. Sprinkle the tomatoes with salt.
Bake
Bake
Bake for 15 minutes, or until the internal temperature reaches 140°F. Remove the dish from the oven and let the salmon rest, the temperature should rise to 145°F.
Bonus Tips
Bonus Tips
After trying it, this will always be your go-to stuffed salmon recipe.
As the salmon fillets roast in the oven, the mozzarella melts, and the rich flavor of the sundried tomatoes and the brightness of basil infuse into the fish from the inside out. As a result, every bite is packed with a refreshing summery flavor.
Letting the salmon come to room temperature helps the fish cook evenly. If you start with refrigerator-cold fish, the outside will cook much more quickly than the center of the fillet. As a result, the edges may overcook before the center reaches a safe-to-eat temperature. 

Although this recipe works well for any salmon fillets, nothing can beat the buttery texture of wild Alaskan salmon, especially the legendary Copper River salmon. Besides the beautiful texture, Copper River salmon also has a higher omega-3 content in it.

There's no need to remove the skin for roast salmon. The skin helps protect the salmon flesh to keep it moist as it cooks. Plus, you can eat the skin for an extra dose of heart-healthy omega-3s. 

Filling the salmon with sundried tomatoes, rather than fresh ones, helps infuse the fish with concentrated tomato flavor. Sundried tomatoes also contain less water, so they hold their shape well when baked. 

You can sprinkle the top of the fillets with finely grated parmesan after removing the Caprese salmon from the oven for a nice savory finish. 

The tomatoes roasted alongside the salmon will burst in the oven and make a delicious sauce that infuses your fish with extra tomato flavor during roasting. 

Use fresh mozzarella that's packed in water, rather than pre-grated mozzarella, as it has a fresher flavor to pair with delicate salmon. And be sure to season your cheese before stuffing the salmon!

Serving suggestions with this Caprese stuffed salmon:
Roasted vegetables, such as asparagus or broccoli

Sauteed green beans

Crusty bread with olive oil
Subscribe to our newsletter
to stay up-to-date on our promotions, discounts, sales, special offers and more