20 Salmon Lunch Ideas for a Tasty Midday Meal
We all know that salmon is a versatile dish – that can make it challenging to shortlist the best salmon lunch ideas. Should you go for something fried? Perhaps a lighter dish on a hot summer day? Whatever the case, we have you covered!
20 Savory Salmon Lunch Ideas
Here is a comprehensive list of our top 20 favorite salmon lunch ideas.
1. Spiced Salmon Lettuce Boats
Nothing says fresh and summery like these spiced salmon lettuce boats! This recipe is quick, easy, and versatile, with simple ingredients you can find at your local grocery store.
Curate this recipe to your preferences by using your favorite vegetables.
Get the recipe here.
2. Summer Crispy Salmon Salad
If you're short on time, this recipe is perfect for home chefs in a rush. You can serve it as a starter or a main – depends on what ingredients make your palette sing!
We threw in some pistachios to add some crisp to this recipe, but you can use sunflower seeds, almonds, or your favorite nuts.
Get the recipe here.
3. Coconut Macadamia Crusted Salmon
Want to jazz up your typical baked salmon recipe? This coconut macadamia crusted salmon recipe brings a much-needed crunch to this melt-in-your-mouth fish.
The macadamia nuts in this recipe add some rich flavor to the lightness of the coconut.
Get the recipe here.
4. Salmon Bites with Wasabi Mayo
For parents with picky children or relatives new to seafood, these salmon bites make fish more fun and approachable. The garlicky brown sugar and soy sauce marinade brings a robustness that takes the salmon's flavor up a notch.
While the wasabi mayo is optional, it adds the perfect kick for lunch attendees who love a bit of spice.
Get the recipe here.
5. Baked Salmon and Wild Rice Casserole
For a cold-weather recipe, this baked salmon and wild rice casserole will bring a much-needed kick of warmth to your afternoon. It's a nutritious meal with lots of texture – and it's highly nutritious!
Compared to white rice, the wild variety brings a nutty flavor that elevates this dish.
Get the recipe here.
6. Avocado Toast with Beet-Cured Alaska Salmon
Bring a new pop of flavor to your typical avocado toast with beet-cured salmon! It's light, refreshing, and the kale salsa verde provides additional nutrition.
This recipe is so fun to assemble with your family, and it'll cut prep time in half!
Get the recipe here.
7. Salmon Chowder
Nothing says comfort like a warm and hearty salmon chowder on a cold winter afternoon. However, unlike clam chowder, this salmon variety is not fussy at all – it cooks in one pot and is ready in just half an hour.
If you have a shellfish allergy, salmon makes the perfect alternative to clams!
Get the recipe here.
8. Ginger Salmon and Rice Soup
If you're keen on sticking to one-pot recipes, this ginger salmon and rice soup is for you. It's brothy, warm, and is the perfect lunch idea for a cold, crisp afternoon.
We recommend using long-grain rice if you prefer something less starchy.
Get the recipe here.
9. Baked Salmon with Chipotle Peach Salsa
Take your baked salmon up a notch with a refreshing and smoky chipotle peach salsa! You can make this delicious and healthy dish in a single pan, topping with summer tomatoes and fresh garnishes.
If you're feeling adventurous, throw in some edible flowers for presentation.
Get the recipe here.
10. Smoked Salmon Egg Salad Sandwich
Egg salad sandwiches are a longtime lunchtime staple you can level up with a few slices of smoked salmon. Add some alfalfa sprouts to up the earthiness.
This recipe pairs perfectly with a handful of potato chips, cold drink, and good company on a warm summer day.
Get the recipe here.
11. Garlic Salmon in Foil with Honey Mustard Cream Sauce
For a more decadent lunch, try this garlic salmon in foil with honey mustard cream sauce. The Dijon and wholegrain mustards pack a punch, so you won't have to add spice – unless you want to!
Add a squeeze of lemon for a burst of citrus.
Get the recipe here.
12. Farro Bowl with Crispy Salmon and Toasted Sesame Spinach
Are you looking for the perfect alternative to a traditional salmon rice bowl? Farro is a sophisticated grain with a nutty flavor and chewy texture that pairs harmoniously with buttery salmon.
Add some sesame spinach for balance and complex flavors!
Get the recipe here.
13. Smoked Salmon Tartines with Capers
Elegant, flavorful, and impressive, this smoked salmon tartine dish with capers is the perfect dish for a more put-together lunch. It's a unique flavor of combinations, with the salty capers complementing the salmon's natural sweetness.
You can replace the bread with slices of cucumber for something more refreshing.
Get the recipe here.
14. Wild Alaskan Salmon Burgers with Chutney
Burgers are always a welcome lunch dish, and you can't go wrong with these wild Alaskan salmon burgers with spicy and tangy chutney. Create a delicious garnish with red onion, lettuce, and pickles to balance all the different flavors.
Serve with a side of fries, chips, or a refreshing slaw!
Get the recipe here.
15. Greek Salmon Salad
This Greek salmon salad is fresh and crisp, containing ingredients you probably already have in your pantry. Easily prepare your vegetables while the salmon is cooking and you'll be surprised how quickly you'll produce this hearty salad!
Use any vegetables you want – we recommend avocados and olives.
Get the recipe here.
16. Miso Air Fryer with Baby Bok Choy
Cooking salmon in the air fryer is one of the easiest ways to keep the skin perfectly crispy. The air fryer also produces a perfect char on the bok choy.
Add some ginger, soy, and sesame seeds for a sweet contrast.
Get the recipe here.
17. Roast Salmon with Citrus and Coconut-Chile Crunch
Are you a stickler for presentation? The warm colors in this recipe will surely pop – and taste just as great. This bright and refreshing recipe is perfect for a winter lunch.
Top everything with coconut flakes and peanuts for an added crunch.
Get the recipe here.
18. Grilled Salmon Tacos
As far as fish tacos go, grilled salmon provides that perfect melt-in-your-mouth texture for a hot summer day. Pair this recipe with some avocado cilantro aioli for some added texture and flavor.
Serve up your tacos with a pitcher of fresh lemonade – the perfect splash of acidity!
Get the recipe here.
19. Dijon Balsamic Salmon Cakes
These wonderfully moist yet crispy salmon cakes pair beautifully with a mustard-based balsamic vinaigrette. Serve up this dish with a side of lemon wedges for some acidity.
Top with mixed greens to complete this well-rounded recipe.
Get the recipe here.
20. Baked Salmon with Spring Vegetables
You can never go wrong with a classic baked salmon. Brighten the dish with some spring vegetables like asparagus, leeks, and radishes for a crunchy punch.
We recommend using copper river salmon, as it provides extra omega-3 and has a more buttery texture.
Get the recipe here.
Amp Up Your Midday Meal with These Salmon Lunch Recipes
If you're stuck in a lunchtime rut, we hope these salmon lunch ideas have refreshed your arsenal of things to cook at home for family and friends.
A delicious meal always starts with delicious, high-quality ingredients. Start your salmon journey with our fresh-caught wild Alaskan salmon, delivered straight to your doorstep in time for your lunch gathering!
+
Get fresh, sushi-grade Alaskan salmon delivered to your door.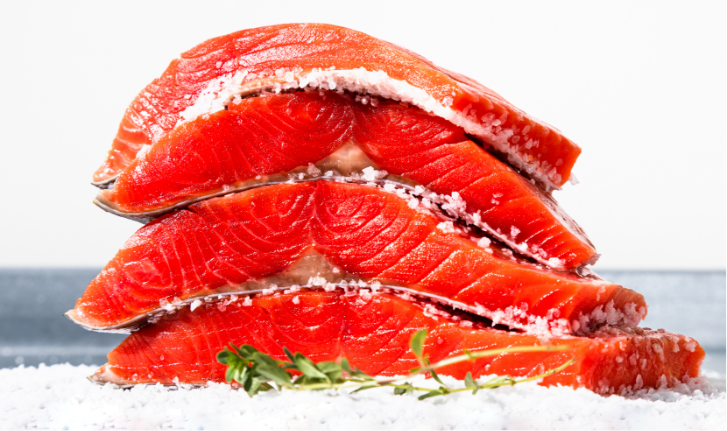 Shop Salmon