While halibut is a deliciously melty fish that shines on its own, throwing together a halibut sauce can bring out its flavors in a way you wouldn't have imagined. Whether you prefer something light, pungent, or creamy, these halibut sauces complement your favorite seafood recipes!
8 Best Halibut Sauces
Once you've mastered the best way to cook halibut, try these easy and delicious sauces to bring your seafood game up a notch.
Lemon Herb Sauce - Best Overall
Dill Sauce - Best Lemon Substitute
Pesto Sauce - Best Earthly Flavor
Citrus-Basil Sauce - Best Summer Sauce
Tarragon Mustard Sauce - Best Spicy Sauce
Mango Salsa - Best Tropical Sauce
Brown Butter Sauce - Best for Caramelizing
Coconut Curry Sauce - Best Creamy Sauce
1. Lemon Herb Sauce
This classically light and refreshing sauce enhances the natural flavors of halibut. The tanginess of the lemon also creates a delightful balance that is so easy to achieve. It's the most reliable sauce you can throw together in minutes.
2. Dill Sauce
This creamy and tangy sauce with a hint of dill adds a lovely herbaceous note to the halibut. Unlike fennel, dill is milder and sweeter yet provides any halibut dish with a much-needed lemony finish.
3. Pesto Sauce
This flavorful and aromatic sauce made with basil gives the halibut a burst of herbal goodness. Because halibut is so mild, foodies with more adventurous palettes will appreciate this recipe's cheesy, earthy, and nutty flavors.
4. Citrus-Basil Sauce
This zesty and tangy sauce with a hint of basil provides a burst of citrusy flavors to the halibut. It's the perfect way to brighten a summer halibut recipe and cancel out any robust briny flavor.
5. Tarragon Mustard Sauce
This creamy and slightly tangy sauce with the distinct flavor of tarragon adds a unique taste to the halibut. It also adds a touch of spice to any fish that could use a creamy glaze!
6. Mango Salsa
This fruity and vibrant salsa adds a sweet and spicy element to the halibut. The mango provides a delicious burst of acidity that adds a refreshing note to your typical fish dish.
7. Brown Butter Sauce
This rich and nutty sauce with the savory taste of browned butter complements the delicate halibut. A brown butter sauce is the best way to get the fish's crust perfectly golden, crispy, and delicious.
8. Coconut Curry Sauce
This bold and flavorful sauce with a perfect blend of creamy coconut and aromatic curry spices adds an exotic touch to the halibut. It'll pair even better on a bed of jasmine rice. Alternatively, you can use this curry sauce to poach the halibut for an extra punch of flavor.
Summary
Halibut sauces are the best way to build depth of flavor with an endless range of possibilities. Of course, a good sauce needs an equally succulent and fresh fish.
Use our wild-caught Alaskan halibut as your jumping point for an unforgettable seafood dish. We deliver straight to your doorstep, fresh out of the clearest Alaskan waters.
+
Get fresh, sushi-grade Alaskan salmon delivered to your door.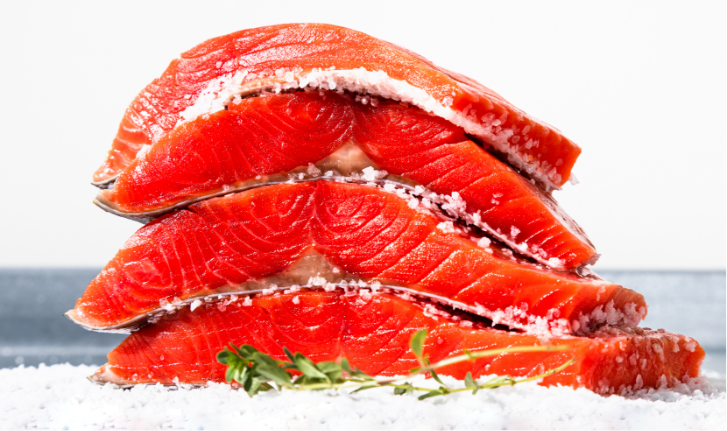 Shop Salmon