10 Best Grilled Salmon Recipes of All Time
Nothing screams "summer" like a backyard grill-centric get-together. Whipping out the ole' dependable grill is an easy way to boost flavor, produce a quick meal, and give your family a reason to enjoy the outdoors.
If you're new to grilling salmon, don't panic! With some basic grilling knowledge and the mindset to experiment, you'll master these grilled salmon recipes in no time.
10 Best Grilled Salmon Recipes of All Time
You can't go wrong grilling salmon, but some recipes are better than others. Try putting these grilled salmon ideas to the test!
1. Grilled Salmon with Garlic Butter
There's no more unbeatable classic grilled recipe than grilled salmon with garlic butter and herbs. This quick and adaptable technique brings the best out of your flaky fish, and it'll serve your entire family.
Throw in some asparagus to add an herbal crunch to your dish. Alternatively, you can pair this dish with a side of garlic green beans.
2. Asian-Style Grilled Salmon
If you prefer your grilled salmon with a glaze, Asian-style is the way to go. It's flavorful, tangy, and packs a punch your neighborhood barbecue attendees won't expect. When perfectly caramelized, this dish is unforgettable and will keep you coming back for more!
Pair your Asian-style grilled salmon with some fresh fruit like mangos or Mandarin oranges for some fresh, sweet, and refreshing dimension.
3. Grilled Salmon Tacos
Taco Tuesdays just welcomed a new protein – salmon! Grilled salmon tacos are just as delicious as their red meat counterparts and, even better, they'll melt in your mouth. With a carefully prepared mise-en-place, you can turn the grilling process into a fun assembly line with friends and family members.
Are you looking for an excellent side for this dish? Try a refreshing watermelon cucumber salad or a light and tangy coleslaw.
4. Grilled Salmon with Mango Salsa
Nothing balances a lightly charred salmon like a sweet and fruity mango salsa. Not only does the salsa bring a welcome pop of color to your dish, but it provides a surprising blend of flavors and pop of texture.
If you want to bring the dish full-circle, consider serving this on a bed of coconut rice for a well-rounded meal.
5. Lemon Pepper Grilled Salmon
This lemon pepper grilled salmon recipe makes for the perfect summer dinner. It's tender and juicy with a kick of acid to bring the flavors together. Prepare your marinade in advance, allowing your salmon to soak for at least 30 minutes for maximum flavor.
Finish off your dish with delicious grilled veggies like asparagus and sliced eggplant. Alternatively, you can serve up pasta salad with refreshing ingredients./
6. Grilled Salmon Caesar Salad
Caesar salad is among the most versatile of healthy recipes and perfectly complements a beautifully grilled salmon. Not to mention, it's so easy to throw together!
This dish is chock-full of omega-3s, essential vitamins, and healthy proteins. You can add as many veggies as you want for a much-needed boost of nutrition.
7. Balsamic Glazed Grilled Salmon
Requiring only five ingredients, this balsamic glazed grilled salmon recipe is a go-to for health buffs with little time on their hands. The high-quality ingredients speak for themselves and are highly agreeable on a grill.
Not to mention, it pairs well with dozens of sides. Choose from lightly charred asparagus, mashed celery root potatoes, garlicky brussel sprouts, or crispy fingerling potatoes!
8. Mediterranean Grilled Salmon Skewers
There is no easier way to enjoy salmon than on a stick. Even better, this recipe brings out the best of its flavors and keeps the fish perfectly flaky.
Throw in a delicious marinade and your skewers will be even more flavor-packed. Use fresh-minced garlic, thyme, cumin, coriander, and olive oil, and voila! Your salmon skewers will taste rich, buttery, slightly spicy, and tangy.
Serve your salmon skewers with a side of pita bread, spiced potatoes, or rice pilaf to bring all the flavors together.
9. Grilled Maple Mustard Salmon
Maple mustard may not sound like your typical fish dish, but the taste on Sockeye salmon is indescribably punchy. Fear not – whole grain Dijon mustard isn't nearly as pungent or vinegary as other mustards, so it'll treat your fish just right.
Your final product is a sticky and sweet salmon ready in just under 20 minutes! Pair this dish with a fresh quinoa salad or asparagus gratin to make the flavors sing.
10. Pineapple Teriyaki Grilled Salmon
Do you want to add a tropical twist to your favorite grilled salmon dish? Try your hand at pineapple teriyaki grilled salmon for something bright and savory.
The sweetness of the pineapple brings out the best of salmon's signature butteriness. Plus, it'll keep your dish perfectly moist – ideal for a hot summer day.
Complement your finished dish with some broccoli, Japanese rice balls, sesame green beans, or couscous salad.
Indulge in Grilled Salmon Perfection
These grilled salmon recipes are sure to do your wild-caught, sushi-grade salmon justice and make you the star of your neighborhood barbecue. Not to mention, they're deceivingly easy to put together!
If you're ready to step your culinary game up, don't forget to use these simple sauces for your grilled salmon dishes. They'll add a much-needed wow factor and bring your recipe arsenal to a new level.
+
Get fresh, sushi-grade Alaskan salmon delivered to your door.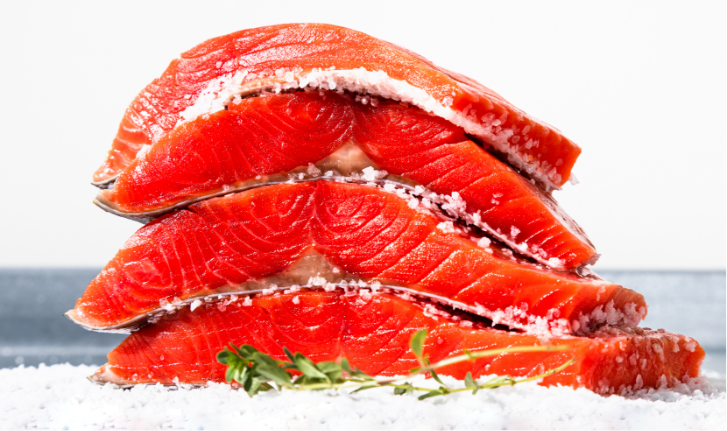 Shop Salmon