10 Best Pan-Seared Salmon Recipes
You can hardly go wrong with pan-seared salmon – it's easy to prepare, requires minimal ingredients, and tastes good every time.
If you're looking for something to serve for lunch, dinner, or at a family gathering, put these pan-seared salmon recipes on your list!
10 Best Pan-Seared Salmon Recipes
Pan-seared salmon is a versatile and delicious dish that can be prepared in various ways. Here are some of the best pan-seared salmon recipes to try:
1. Restaurant-Style Pan-Seared Salmon
This fresh and fast classic recipe leaves your salmon perfectly crispy on the outside and barely cooked in the center, resulting in a buttery feel and harmonious textures. This fine dining method is also frequently applied to steak and scallops, and it's deceivingly simple to master at home.
2. Pan-Seared Salmon with Lemon Garlic Butter Sauce
There is no better salmon sauce pairing than the dependable lemon garlic butter. Not to mention, it's an excellent low-carb option for people with dietary restrictions or who are watching their weight. This delectable recipe requires minimal ingredients for maximum taste and it only takes a few minutes.
3. ​​Teriyaki Glazed Pan-Seared Salmon
For something sweet and spicy, a teriyaki glazed pan-seared salmon is the way to go. You can serve this dish with Japanese rice for an authentic experience and garnish with toasted sesame seeds and freshly chopped scallions for an explosion of flavor.
4. Cajun Blackened Pan-Seared Salmon
For the more adventurous chef, Cajun blackened pan-seared salmon is the perfect punch of flavor. Spicy, crispy, and packing savory flavor, this recipe is an excellent option for backyard grills and potlucks. Plus, it provides a bit of heat for more daring palettes.
5. Crispy Pan-Seared Salmon
As far as simple cooking techniques go, this crispy pan-seared salmon method always delivers. It's a reliable technique used in culinary schools that you can depend on for quick but mouthwatering meals. All you need are a few ingredients, a sharp knife for removing the salmon skin, and a hot frying pan.
6. Sesame Crusted Pan-Seared Salmon
If you're not a fan of salmon skin but still want the crunch of a crackling crust, this recipe is for you. The mix of toasted sesame seeds and a delicious Asian-style sauce make this salmon recipe an instant favorite. Pair it with a light red wine and you have yourself the perfect dinner date dish.
7. Maple Dijon Pan-Seared Salmon
This recipe requires a simple preparation but pairs with a punchy, flavorful, and slightly tangy sauce. You'll easily whip this recipe up in about 20 minutes, making it the perfect workday dinner.
8. Garlic Butter Pan-Seared Salmon
Nothing elevates a simple, perfectly cooked pan-seared salmon like a delectable and buttery sauce. Unlike most other preparations, this recipe requires a garlic baste, much like what you'd do for a steak. Through basting, you'll get a to-die-for crisp crust with melt-in-your-mouth, flaky skin underneath.
9. Coconut Lime Pan-Seared Salmon
If you're feeling adventurous and want something outside of the realm of a typical pan-seared salmon, try thier coconut lime recipe. This creamy sauce is rich and pungent without being too flavorful. Plus, the lime juice, ginger, and basil brightens up every note.
10. Pesto-Crusted Pan-Seared Salmon
Fast and flavorful, this pesto-crusted pan-seared salmon recipe is so easy to put together you'll wonder why you've never prepared it before. It's a restaurant-quality dish that requires fresh and simple ingredients. Plus, it goes perfectly with many side dishes like a summer slaw, broccoli, or caprese salad.
Summary
It's obvious why we love salmon – it's delicious, high-quality, and so easy to prepare. With these pan-seared salmon recipes in your arsenal, you'll be sure to impress your friends and family.
Prepare your pantry with our fresh-caught wild Alaskan sockeye salmon!
+
Get fresh, sushi-grade Alaskan salmon delivered to your door.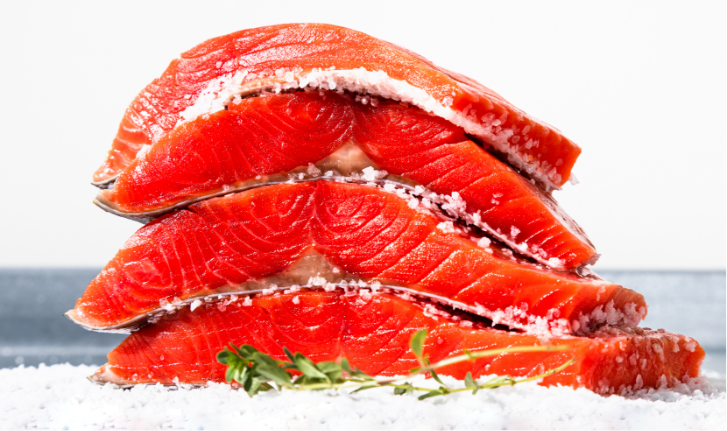 Shop Salmon