7 Best Canned Salmon Brands for 2023
The best seafood is often fresh, but occasionally, canned fish will have to do. Premium canned salmon is affordable for home chefs whose budgets can't accommodate their fresh counterparts.
Plus, some canned salmon options are surprisingly tasty and make easy lunches. You can use canned salmon in sandwiches, on top of salads, as part of spreads, and to fry patties.
In this guide, you'll learn the best canned salmon brands and how we chose them.
Our Best Canned Salmon Brands Picks
High-quality fish marks an excellent canned salmon, often wild-caught for better flavor and nutritional value. Sustainability is key, as products from well-managed fisheries minimize environmental impact and maintain healthy fish stocks.
Here are the best canned pink salmon on the market:
Best Overall: Wild Planet
Low in Mercury: Safe Catch
Best Value: Bumble Bee
Most Flavorful: Faust Brand
Best Texture: Rubinstein's
Best Smoked: Wildfish
Low in Sodium: Crown Prince
How We Selected These Canned Salmon Brands
We selected these canned salmon brands based on a combination of factors, including the following:
Reputation and Recognition: We reviewed brands consistently mentioned and positively regarded in online discussions, food magazines, and culinary communities.
Customer Reviews: We accounted for customer reviews and feedback from various platforms. Positive reviews indicated consumer satisfaction with taste, texture, and overall quality.
Sustainability: Because there is an increasing demand for environmentally conscious brands, we sought options known for their commitment to sustainable fishing practices, ethical sourcing, and environmental responsibility.
Product Variety: The best brands cater to different dietary preferences, recipe needs, and packaging preferences. Thus, we researched a well-rounded selection that appeals to a wider audience.
Transparency: We prioritized brands with clear information about their sourcing, fishing methods, and processing practices. Transparency builds consumer trust and allows for informed purchasing decisions.
Availability: We sought brands commonly found in grocery stores and online retailers to ensure accessibility for a broader audience.
Updated Information: Given that the market landscape can change over time, we considered brands that maintained their reputation and quality up to the present time.
7 Best Canned Salmon Brands in 2023
Are you on the market for the best canned salmon on the market? Here are a few options.
1. Wild Planet - Best Canned Salmon Overall
Wild Planet's pink and sockeye varieties are wild-caught and canned fresh for optimal nutrition and taste. Their options are boneless and skinless for easy preparation, packed in pop-top lids that are easy to open.
Wild Planet sources its salmon from small-scale fisheries with sustainable practices. They're also particularly transparent about their sourcing, giving consumers peace of mind.
Pros:
Sustainably caught fish
Highly flavorful
Emphasizes transparency in sourcing
Cons:
Can sizes are limited to 6oz
2. Safe Catch - Low in Mercury
Safe Catch is known for its low mercury levels. It's slow-cooked, so you won't have to worry about fillers, preservatives, and other unwanted ingredients.
Not to mention, Safe Catch's products are pre-seasoned, taking an even bigger load off your hands in the kitchen.
Pros:
Affordably priced
Lowest mercury content of all brands
Cons:
Flavor profile may not complement certain ingredients
3. Bumble Bee - Best Value
At under $5 a pop in a much bigger can, Bumble Bee offers the best value canned salmon. It's a bone-in, skin-on product that packs flavor but contains a lot of liquid, which may be bothersome for some.
Each can is coded with a Trace My Catch feature – a plus for environmentally conscious eaters.
Pros:
Affordably priced
Extra flavor from skin and bones
Cons:
Unclear whether cans contain water or natural juices
Trace My Catch feature isn't always accurate
4. Faust Brand - Most Flavorful
Red salmon is among the most flavorful species, so chefs looking for a punch in their bite may prefer Faust Brand. It's already salty, so you won't have to season it much.
It has a solid texture, complete with skin and bones.
Pros:
Already pre-seasoned
Most flavorful option
Cons:
Some customers have complained about indigestion after consumption
5. Rubinstein's - Best Texture
Like Faust Brand, Rubinstein's stocks pink salmon. This particular brand is free of artificial coloring – its salmon is just that pink!
Not to mention, Rubinstein's boasts a firm texture with a solid chew and explosion of flavor. You won't have to do much to this salmon to enjoy it in a salad or on some crackers for a quick bite.
Pros:
Naturally pink without added coloring
Impeccable texture
Cons:
Slightly pricier than other brands
6. Wildfish - Best Smoked
Because a little goes a long way with this delicious canned smoked salmon, Wildfish is worth its hefty price tag. Unlike most brands, Wildfish features white-skinned salmon, making it rare and highly sought-after.
It has minimal ingredients, so you won't have to worry about red flags like preservatives and artificial additives on its ingredient list.
Pros:
Harder-to-find species of salmon
Limited ingredient list
Spectacular quality
Cons:
7. Crown Prince - Low in Sodium
This wild-caught, sustainably sourced, and non-GMO canned salmon does without unnecessary additives and preservatives. In addition, it has no added salt to cater to restricted diets.
Its edible skin and bones are packed with omega-3 fatty acids and do wonders for preserving the salmon's natural flavor.
Pros:
No added salt
High nutritional value
Cons:
Has more bones than other brands
Frequently Asked Questions
Below are a few frequently asked questions about canned salmon, its freshness, and potential additives.
Is canned salmon as nutritious as fresh salmon?
Canned salmon is still a nutritious option, as it retains its omega-3 fatty acids and protein content, which are beneficial for heart and brain health. However, there might be a slight reduction in vitamin content due to the canning process. Additionally, canned salmon with bones provides calcium from the softened bones.
Are there any additives or preservatives in canned salmon?
While many canned salmon brands strive to minimize additives and preservatives, it's essential to read the product label to be sure. Some brands offer canned salmon with minimal ingredients, such as just salmon and salt. However, some products might include added flavors, seasonings, or oils.
How do I properly store opened canned salmon?
Once you open a can of salmon, transfer any unused portion to an airtight container or cover it tightly with plastic wrap or foil. Refrigerate the opened salmon and consume it within a few days to maintain freshness.
What cooking methods work best for canned salmon?
Canned salmon is already cooked during the canning process, so it's ready to eat. You can have it directly from the can in cold dishes like salads and sandwiches.
However, if you prefer warm dishes, you can gently heat the canned salmon by adding it to soups, stews, pasta dishes, or casseroles during the cooking process.
Summary
Canned salmon presents a convenient and nutritious option for seafood enthusiasts. While there may be slight differences in nutritional content compared to fresh salmon, canned salmon retains its valuable omega-3 fatty acids and protein, making it a beneficial addition to a balanced diet.
It's important to choose brands that prioritize sustainable sourcing and minimal additives, ensuring both quality and environmental responsibility. With its versatility in various dishes and cooking methods, canned salmon offers a quick and flavorful solution for meals that align with health-conscious and time-conscious lifestyles.
+
Get fresh, sushi-grade Alaskan salmon delivered to your door.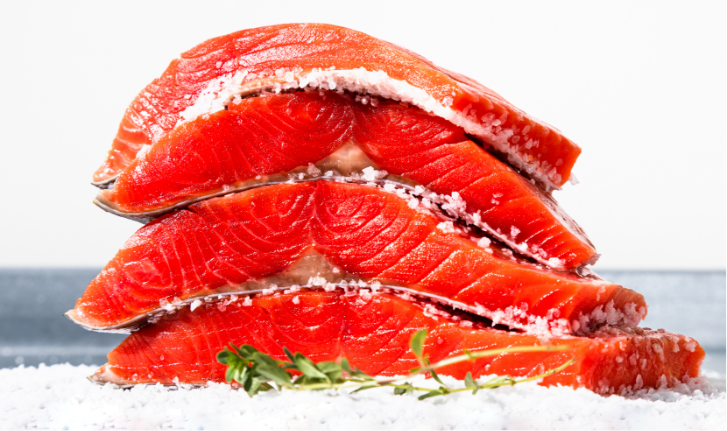 Shop Salmon