10 Simple Sauces for Your Grilled Salmon at Home
Grilled salmon is oh-so-easy to make, but if you're growing a little tired of your average grilled salmon fillet, consider adding a sauce for grilled salmon to your recipe repertoire. A quick and simple way to take your grilled salmon dish to the next level, these 10 sauces add a burst of flavor to your favorite fish. Whether you're cooking a summertime light lunch or an internationally-inspired feast, one of these sauces is sure to make your mouth water. 
1. Lemon Herb Butter Sauce: For When You Want Something Classic
One of the most popular sauces for grilled salmon? A lemon herb butter sauce. You'll find lemon and butter paired with salmon frequently, and for good reason. The zesty tang of the lemon, the creamy butter and the fresh herbs all perfectly complement the light, delicious flavor of a fresh fillet. 
This is also an extremely easy sauce to pull together. Just combine shallots, wine and lemon juice over the stove and then add in your butter and herbs, along with a pinch of pepper. Betty Crocker breaks down exactly how to do so and the quantities needed for a grilled salmon meal for four, with this recipe.  
2. Honey Sriracha Sauce: For When You Want a Kick of Heat
If a lemon herb butter sauce is a bit too mild for your tastebuds, kick things up a few notches with this honey sriracha sauce that combines sriracha and rice wine vinegar with lime juice and honey. The result is a spicy-sweet bold flavor that pairs well with many salmon side dishes, from grilled veggies to a rice or polenta-based dish. 
This recipe also includes instructions for a salmon marinade and for grilling your salmon, but you can just snag the sauce recipe for use with your typical salmon grilling methods. 
3. Creamy Horseradish Sauce: For When You're in the Mood for Dipping
Maybe you have a kid at the table that loves foods they can dip. Maybe you're that kid (or rather, kid at heart). Whatever the reason you're on the hunt for the perfect dipping sauce for your salmon, you've found it. 
This creamy horseradish sauce from Epicurious was made for dipping, with the bold and creamy blend of sour cream, mayonnaise, horseradish, lemon juice, soy sauce and basil making for the perfect accompaniment for a light, flaky salmon fillet.  
4. Asian Grilled Salmon: For When You Need a Simple Asian Recipe  
Any Asian cooking can be intimidating for those who've never practiced the region's many cuisines at home before, but this recipe from Ina Garten makes achieving Asian flavors easy, with very few ingredients. A mustard, soy sauce, olive oil and garlic marinade becomes a sauce for your grilled salmon, after you're finished with the cooking process. The entire recipe comes together in just over half an hour, for a simple salmon entree to go alongside your favorite Asian rice dish or salad. 
5. Tomato Basil Salsa: For When You're Craving Salmon with an Italian Flair
But maybe you're in the mood for Italian, not Asian, tonight. When that's the case, try this tomato basil salsa for topping your grilled salmon. The recipe combines a wealth of herbs with fresh tomatoes, balsamic vinegar and olive oil, for a refreshing, light and flavorful sauce for grilled salmon. 
6. No-Fail Hollandaise: For When You're Craving Grilled Salmon at Brunch
While, yes, hollandaise is most often served atop an eggs benedict, and your brunch-time salmon is not often grilled, but rather smoked, cured or poached, a hollandaise sauce can still take your grilled salmon and turn it into a delicious brunch-time treat. 
This no-fail hollandaise sauce recipe from Andrew Zimmern is easy enough for even infrequent home cooks to master. 
7. Sauce Verte: For When You Have Plenty of Fresh Herbs on Hand
This summertime green sauce from the New York Times combines a shallot, capers, parsley, chervil, lemon juice, mustard and red wine vinegar for a fresh, seasonal accompaniment to your grilled salmon. The sauce packs a lot of flavor, so serve it in moderation and enjoy it alongside your other salmon side dishes, too, such as, in this case, green beans and new potatoes. 
8. Winter Citrus Salsa: For When You Need a Winter-Appropriate Salmon Recipe
Salmon works exceedingly well as a summertime staple. It pairs excellently with bright flavors and seasonal vegetables. However, that's hardly any reason not to enjoy grilled salmon during the winter months; you just might want to adjust your recipe slightly. This winter citrus salsa can help. 
The recipe combines blood oranges with shallots, cilantro, lime and jalapeño for a delightful sweet-spicy-citrusy salmon topping that somehow still feels seasonally appropriate. 
9. Apple Cider Glaze: For When You're Feeling Fall-ish
And if you're craving grilled salmon in the fall versus in the winter? Well, there's a seasonal salmon sauce recipe for then, too. This option from Geoffrey Zakarian creates a glaze for baked salmon (though you can most certainly use the recipe for grilled salmon as well), and then makes that glaze pull double-duty as a sauce for the finished product. 
The recipe combines apple cider with shallots, honey, mustard and lots of herbs and spices for a balanced, yet flavor-heavy, salmon dish that home cooks have raved about.
10. Creamy Herb Sauce: For the Ranch Dressing Love in Your Life
We all know that person (and you may be that person). The one who loves ranch dressing with everything — literally everything. If you or a family member would like to try a little ranch dressing alongside your salmon, hold off from just dumping a dollop straight from the bottle onto your plate, and make this creamy herb sauce instead. 
Taste of Home combines sour cream and ranch salad dressing with fresh herbs for a creamy, easy-to-make sauce for grilled salmon. It's all your favorite ranch dressing flavors, only a bit more elevated. 
Upgrade Your Grilled Salmon with a New Sauce 
Grilled salmon is great, but if you're tired of the same ol' thing, a sauce for grilled salmon can bring new life to your dinner table. So, what are you waiting for? Try one of these sauces tonight.
+
Get fresh, sushi-grade Alaskan salmon delivered to your door.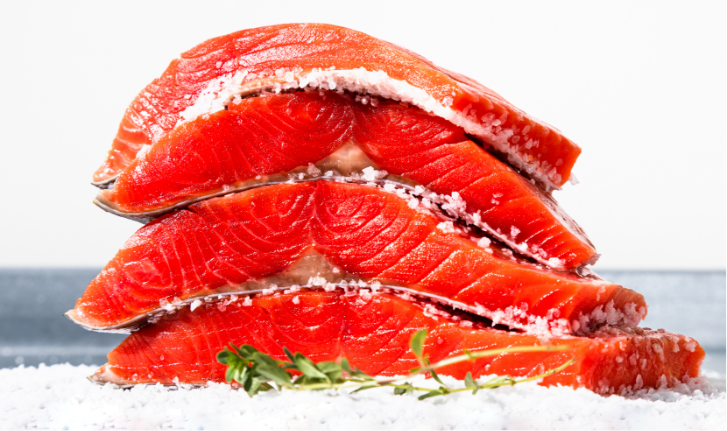 Shop Salmon