10 Delicious Leftover Salmon Recipes
Looking for creative ways to use up your leftover salmon? Look no further than this collection of delicious and easy leftover salmon recipes! From crispy salmon croquettes to smoky salmon dip, these recipes are a great way to turn leftover salmon into a brand new meal. Whip up some Alaskan salmon fried rice for a playful twist on a classic dish, or enjoy a warm and cozy salmon head soup. Feeling fancy? Try a decadent salmon quiche or a luscious Greek salad with salmon. Now you'll know exactly what to do with leftover salmon. These recipes are perfect for any occasion, whether you're hosting a party or just looking for a tasty and satisfying meal. So don't let your leftover salmon go to waste - try one of these delicious recipes today!
10 Delicious Leftover Salmon Recipes
1. Summer Crispy Salmon Salad
An ode to our viral tiktok. This salad is so fresh and crisp, it'll make you feel like you're diving into a crisp ocean water on a hot summer day. And the seared salmon fillets? They're like little bites of sunshine that'll have your tastebuds and heart smiling.
2. Alaskan Salmon Fried Rice
Forget boring old fried rice, this recipe is like a party in your mouth! The Alaskan salmon adds a rich and buttery flavor, while the veggies and spices bring a whole lot of fun and color to the dish.
3. Easy-n-Tasty Salmon Head Soup Recipe
Who knew that salmon heads could be so delicious? This soup is like a warm and cozy hug in a bowl, with the fragrant herbs and hearty vegetables adding a playful twist to the classic fish soup.
4. Salmon Croquettes
Move over, boring fish sticks - these croquettes are the life of the party! They're crispy, flavorful, and perfect for dipping in your favorite sauces. Plus, they're so easy to make, you'll have plenty of time to dance around the kitchen while they cook.
5. Smoked Salmon Dip
Everytime my sister makes this, it's an instant crowd-pleaser. It's creamy, smoky, and just a little bit tangy - perfect for snacking on while you catch up with your friends. Warning: it's extremely addictive, you might end up eating the whole bowl yourself!
6. Salmon Cakes
These cakes are like little patties of joy. They're crispy on the outside, tender on the inside, and packed with all the delicious flavors of fresh salmon and aromatic spices. You'll feel like a culinary wizard when you whip up a batch of these babies.
7. Salmon Quiche
This quiche is like a fancy brunch in Paris, like Emily in Paris, without the plane ticket…and drama. The only thing dramatic is the buttery crust, creamy eggs, and savory salmon filling are pure decadence, and the perfect excuse to break out your best tableware and sip on some mimosas.
8. Grilled Salmon Taco
Taco Tuesday just got an upgrade, thanks to these grilled salmon beauties. They're fresh, zesty, and just the right amount of spicy - perfect for a summertime fiesta. Just don't forget the margaritas!
9. Salmon Stir Fry
This stir fry is like a kaleidoscope of colors and flavors. The juicy salmon, crunchy veggies, and savory sauce come together in a playful and satisfying dish that'll make you want to do a little happy dance.
10. Luscious Greek Salad with Salmon
This salad is like a little piece of the Mediterranean in your mouth. The fresh veggies, tangy feta, and perfectly cooked salmon are like a flavor explosion that'll transport you to a sunny Greek island. Opa!
Whether you're a home cook, content creator, or restauranteur, trying to figure out what to do with leftover salmon, these recipes are sure to impress. With a range of flavors and cooking techniques, there's something for everyone to enjoy. So why not add some variety to your meal plan and try out one of these delicious and playful salmon recipes today!
+
Get fresh, sushi-grade Alaskan salmon delivered to your door.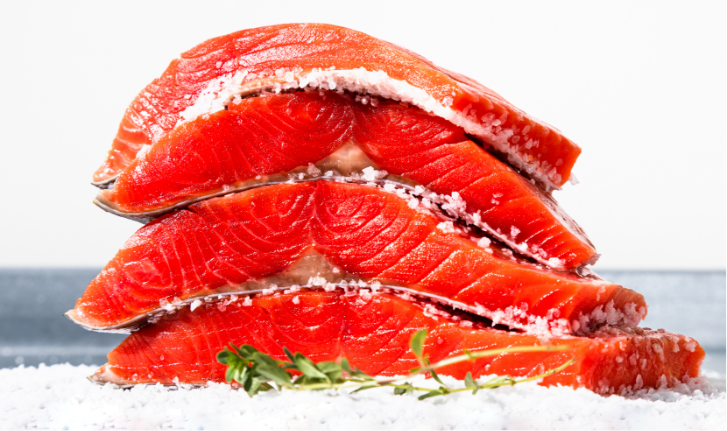 Shop Salmon