20 Best Side Dishes for Salmon
When it comes to salmon pairings, the possibilities are endless. We're talking salmon wine pairings and side dish pairings. Without narrowing down your options, you'll be stuck with hundreds of vegetables, rice bowls, and pasta sides to choose from – and you'll never get dinner on the plate!
Fortunately, our list can help you complete your go-to arsenal of side dishes for salmon.
20 Best Salmon Side Dishes
Salmon pairs well with a variety of side dishes that complement its flavors and provide a balanced meal. Here are some popular and delicious options:
1. Roasted Asparagus with Parmesan
If you're not a fan of asparagus, pairing this hit-or miss vegetable with salmon and parmesan will make you fall in love with it. Not to mention, the recipe is easy to follow and requires little to no cooking skills. It's an excellent dish to throw together on a busy day or to bring to a potluck.
2. Garlic Roasted Potatoes
Not only do the earthy flavors of roasted potatoes contrast nicely with the richness of salmon, but you can easily throw them into the same pan for a quick meal.
This delicious meal is also healthy and satisfying. It's high and protein and perfectly filling, so you won't be at risk of overeating.
3. Lemon Dill Rice
This bright and refreshing side dish brings out the natural and buttery flavors you often find in a well-cooked salmon. It's perfect for weeknight dinners, as it won't take you more than 20 minutes to cook. Not to mention, the ingredients are healthy and accessible.
4. Creamy Cucumber Salad
The coolness of cucumber pairs well with the bold flavors of salmon, making this a perfectly refreshing summer dish. Its thick and creamy sauce coats the salmon well, increasing the overall buttery texture. Eaters watching their weight can use low-fat sour cream or Greek yogurt.
5. Sautéed Spinach
You don't need to be Popeye to love spinach. Even younger eaters who aren't too fond of greens will love this delicious and nutritious addition to your go-to salmon dish. This flavorful accompaniment only takes a few minutes to cook and requires minimal preparation.
6. Roasted Root Vegetables
Sweet and earthy root vegetables create a comforting side dish with salmon. Especially during roasted vegetable season, this tender and caramelized side dish makes the perfect salmon sidekick. You can use whatever you have in your pantry—just season the dish well.
7. Balsamic Glazed Carrots
The sweetness of this dish's balsamic glaze enhances the salmon's savory flavor. While carrots may seem simple, they provide a complex, sweet flavor that plays a distinct role in any recipe. Plus, it's hard to go wrong with a carrot – they are easy to prepare and quick to cook.
8. Pesto Pasta
You'll never have to worry about bland salmon again when you throw in some herbal pesto notes. While whipping up an entire pasta as your side dish may seem daunting, you'll be surprised to know that it only takes about 15 minutes to cook this pesto dish. Plus, you can save some servings for future meals.
9. Grilled Zucchini
Grilling zucchini brings out its natural sweetness, which complements salmon perfectly. If you're already grilling salmon, you can easily toss in your seasoned zucchini for a complete low-carb keto dish. It's also an excellent vessel for playing around with oils, vinegars, and spices.
10. Quinoa Salad
Quinoa's nutty flavor and fluffy texture provide a nice balance to your favorite salmon dish. Especially on a hot summer day, quinoa salad is the ideal refreshing and crisp accompaniment. It's easy to put together and you can take it on a road trip or picnic, along with your cooked salmon.
11. Sweet Potato Fries
Sweet and savory flavors of sweet potato fries are a great match for salmon. Instead of deep-frying them, you can bake them for a healthier option. This side dish will balance out the salmon's butteriness and add some much-needed crisp.
12. Creamy Coleslaw
The creamy texture and tangy flavor of coleslaw balance the richness of any salmon, making it perfect for a barbecue or summer picnic. Plus, it's hard to imagine a seafood potluck without this staple! The extra mayo in this side dish will complement the salmon's butteriness – you'll wonder why you've never made this before.
13. Cilantro-Lime Rice
The zesty combination of cilantro and lime complements any salmon's rich, buttery taste. Whether throwing together a Mexican staple or Asian dish, this irresistible rice bowl makes your salmon perfectly aromatic. It's also an excellent low-fat option.
14. Garlic Green Beans
Green beans are an excellent standalone side dish, but adding a touch of garlic will truly make your salmon pop. Opt for fresher beans, which always provide a greener, more balanced taste. Overall, this side dish is healthy and flavorful.
15. Baby Bok Choy
Quick, easy, and absolutely delicious, baby bok choy is all you could want in a salmon side dish. While seemingly basic, garlic and ginger can make your bok choy side dish stand out and satisfy. Plus, it's high in fiber and essential vitamins – your complete dish will be the picture of health.
16. Roasted Brussel Sprouts
Maybe you weren't the biggest fan of brussel sprouts growing up, but do it right now and you'll love it, especially alongside your salmon. Roasted brussel sprouts are sweet and nutty – the perfect complement to a rich salmon fillet.
17. Creamy Mushroom Risotto
While a perfectly creamy mushroom risotto may require more refined culinary skills, you won't regret the practice when you get this side dish right. It's creamy, bold, and the perfect complement to a salmon dish that shines.
18. Sugar Snap Peas
Snap peas are a combination of every flavor profile. They're sweet, salty, and buttery – that sounds like it'll pair perfectly with any salmon dish! If you're struggling to find the perfect last-minute partner to your salmon fillets, you can have sugar snap peas ready in under five minutes.
19. Pesto Zucchini Noodles
Pasta and salmon have often gone hand-in-hand, but if you're not interested in carbo-loading, this delicious and healthy substitute is the perfect solution. This wonderfully creamy side dish bring some earthiness to the plate and will cut through the sweetness.
20. Roasted Kabocha Squash
If you're looking for a nutritious and flavorful side dish, roasted kabocha squash is your new best friend. It may take longer to prepare than your usual five-minute beans, but it's a crowd-pleaser you won't regret. It's sweet and dense and provides the health kick you need.
Summary
If you're looking for side dishes to serve with salmon, you may feel overwhelmed by the choices available. However, refining a handful of simple and healthy recipes can do wonders for your culinary arsenal. As you grow familiar with the different methods of cooking fish, you'll reach for these side dishes for salmon no problem!
Now, if you want a simple sauce to complete your salmon dish, give our quick guide a read.
+
Get fresh, sushi-grade Alaskan salmon delivered to your door.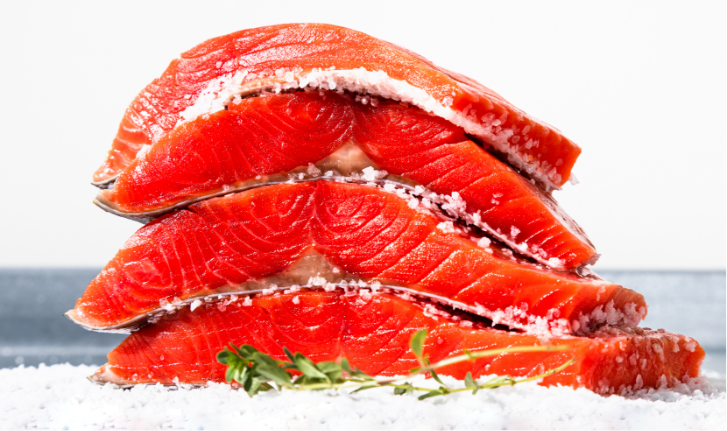 Shop Salmon