20 Delicious Keto Salmon Recipes
Cutting down on carbs doesn't mean letting go of delicious meals. Keto salmon recipes are the perfect combination of low carbs and high protein. Whatever the case, most low-carb salmon recipes are still bursting with flavor and highly satiating.
From grilled salmon meatballs to garlic butter salmon with spinach, each dish is meticulously crafted to provide a seamless integration of savory salmon and wholesome keto-approved ingredients. Whether you're a seasoned keto enthusiast or a newcomer to the diet, these delightful recipes will elevate your dining experience and leave you craving for more keto-approved goodness.
20 Keto Salmon Recipes
Salmon is a fantastic option for those following a keto diet due to its high omega-3 content and moderate protein levels. Here are some delicious and easy keto salmon recipes to try:
1. Baked Lemon Garlic Butter Salmon
This delicious melt-in-your-mouth meal is an excellent keto option because of its low-carb content and nutrient-dense ingredients. It's also high in healthy fats, rich in protein, and easily satisfying.
2. Grilled Cajun Salmon
Grilling salmon is an excellent way to retain healthy fats in salmon, which are essential to a keto diet. In addition, this spicy and succulent dish is highly satiating, so you likely won't crave more than the perfect portion.
3. Creamy Garlic Parmesan Salmon
Not only is this succulent recipe delicious and satisfying, but it's also high in healthy fats from butter, heavy cream, and parmesan, making it an ideal keto dish. The flavorful sauce also keeps the salmon moist and helps it retain nutrients.
4. Smoked Salmon Deviled Eggs
Eggs and salmon make an excellent and delicious source of protein, perfect for keto dieticians. This nutrient-dense and refreshing appetizer preserves muscle mass and supports healhty bodily function, so you'll get your hunger fix without hurting your diet!
5. Keto Salmon Patties with Avocado Salsa
This unbeatably delicious recipe is high in healthy proteins and low in carbs. The almond flour in this recipe is a popular keto-friendly alternative to wheat flour and breadcrumbs, and it doesn't compromise taste. In addition, the avocado is rich in monosaturated fats – and so refreshing!
6. Lemon Dill Salmon with Asparagus
This succulent recipe is so much easier to prepare than you think and makes for an excellent addition to your keto diet. The asparagus is rife with essential vitamins and adds a delicious crunch to your dish. The lemon-dill sauce is also nutritious and bursting with zesty flavor.
7. Baked Teriyaki Salmon
Pefect for lunch or dinner, baked teriyaki salmon is tender, flaky, sweet, and absolutely mouthwatering. Not only is it keto-friendly, but it's also gluten-free! Plus, you can make your teriyaki sauce with no added sugars and get a product just as sweet and satisfying.
8. Pesto Baked Salmon with Roasted Vegetables
Well-rounded and keto-friendly, pesto baked salmon is a low-carb and fiber-rich recipe that makes for a go-to balanced meal. Not to mention, it's super easy to prep, cook, and clean up. When vegetable season rolls around, you'll be reaching for this dish every time.
9. Spicy Cilantro Lime Salmon
If your palette is craving a little spice, cilantro lime salmon with a kick of cayenne and cumin is the way to go. The sauce's tangy sweetness does wonders for the salmon's robust flavor, bringing a much-wanted kick to the tongue. Plus, it's nutrient dense, rich in essential vitamins and potassium.
10. Keto Salmon and Cream Cheese Roll-Ups
If you love the taste of a traditional salmon bagel but don't want the carbs that come with it, ket salmon and cream cheese roll-ups make the perfect substitute. They're perfect for serving at brunches and dinner parties and are totally refreshing.
11. Asian Sesame Ginger Salmon
This soy ginger salmon recipe is healthy and versatile – perfect for those who like a kick of sweetness without the added sugar. Its umami flavor is captivating and it's the perfect way to take a boring keto salmon fillet to a new level.
12. Lemon Herb Butter Baked Salmon
If you're not feeling too adventurous with your recipes but still want to enjoy a satisfying keto dish, lemon herb butter baked salmon is an obvious winner. This simple but delicious dish is loaded with omega-3 fatty acids and other nutrition-packed ingredients.
13. Keto Salmon Curry
Nothing screams warmth during the winter than a refreshingly hot keto salmon curry dish. This nourishing and hearty meal is very low in carbs but packs a flavorful and aromatic punch. Coconut milk is also an all-time favorite source of healthy fats.
14. Grilled Salmon Meatballs
Everyone loves a good meatball, and replacing your typical ground beef with pureed salmon adds essential nutrients to your keto diet. Plus, the delicious green goddess sauce is high in protein, perfectly complementing this keto dish.
15. Keto Salmon Salad
Salads don't have to be boring. In fact, they can be the perfect keto refresher for a hot summer night. This recipe bursts with health and nutrition without compromising on taste. It's super easy to make and pack for picnics or potluck brunches.
16. Spicy Salmon Poppers
These poppers make for a delightful appetizer or snack option, perfect for keto dieters looking for a flavorful and protein-packed treat. They are low in carbohydrates and high in protein and healthy fats, making them an excellent choice for those following a ketogenic diet.
17. Air Fryer Salmon
Air fryer salmon is a quick and easy way to cook salmon fillets without using excessive oil. All you have to do is toss your salmon in and voila – a perfect keto-friendly dish to serve with pasta or a salad.
18. Keto Salmon Quiche
A keto salmon quiche features a flavorful filling of salmon, eggs, cream, cheese, and various keto-friendly vegetables like spinach, mushrooms, or bell peppers. This dish is baked to perfection, making for a delicious and hearty meal suitable for any time of the day.
19. Salmon Frittata
Filling and flavorful, salmon frittatas feature whisked eggs with cooked salmon and a medley of low-carb vegetables. Keto salmon quiche is high in healthy fats from eggs, cheese, and salmon. It's also low in carbs since the traditional carb-heavy crust is replaced with a keto-friendly alternative or omitted altogether.
20. Beetroot and Gin Salmon Gravadlax
No, you're not seeing double – gravadlax is a real word! It's a unique Nordic-style cured salmon dish. In this version, salmon is coated with a mix of beetroot, gin, and seasonings, then cured in the refrigerator for a few days.
Not only is gravadlax unorthodox and visually stunning, but a healthy and indulgent choice for keto dieters.
Summary
These keto-friendly salmon recipes offer a delightful and nutritious feast for anyone seeking to maintain a low-carb lifestyle without compromising on taste. With a variety of mouthwatering options, from salmon curry to salmon salad and more, these dishes not only satisfy your cravings but also align perfectly with your health and wellness goals on a ketogenic diet.
Get started on those mouthwatering recipes with our seasonal and wild-caught Alaskan sockeye salmon. Our fillets are perfectly keto-friendly and delivered straight to your doorstep.
+
Get fresh, sushi-grade Alaskan salmon delivered to your door.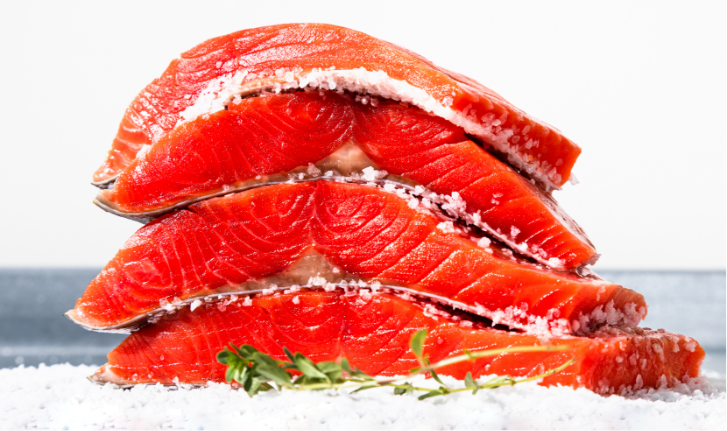 Shop Salmon