We all know that salmon's flavor is rich and buttery. Oftentimes, it's perfectly succulent on its own. However, making a marinade can further enhance its flavor, tenderize the fish, infuse aromatics, and impress your guests.
The best marinade for salmon should bring out the fish's flavors—not overpower them. With the right combination of ingredients, you can turn a simple salmon dish into a delectable and memorable masterpiece.
Best Marinade for Salmon - Try These 7 Salmon Marinades
Preparing a marinade is simple and time-efficient. Once you've combined the ingredients, you just need to marinate the salmon for a specific duration before cooking, making it an easy way to enhance the taste of your meal.
Because salmon is a delicious and versatile fish that pairs well with a wide range of flavors, the possibilities for marinades are virtually endless. Here are some salmon marinade recipes:
1. Honey Soy Glaze
This classic marinade strikes the perfect balance between sweet and savory. The combination of honey, soy sauce, garlic, and ginger creates a rich and luscious glaze that caramelizes beautifully over the salmon. The honey soy glaze adds a delightful sticky coating to the salmon, ensuring a mouthwatering experience with every bite.
Ingredients:
Soy sauce
Honey
Garlic
Ginger
Rice vinegar
Sesame oil
Black pepper
Salmon fillets
Here's how to make it:
In a bowl, whisk together your ingredients.
Adjust the sweetness or saltiness by adding more salt or honey.
Place the salmon fillets in a shallow dish or a resealable plastic bag, pouring the marinade over the fish.
Allow the salmon to marinade for at least 30 minutes. For best results, marinade the salmon for up to four hours.
Grill, bake, pan-sear, or broil the salmon.
2. Lemon Dill Marinade
If you're looking for a light and refreshing flavor profile, lemon dill marinade is your ideal choice. The tangy zest of lemon, the aromatic notes of fresh dill, and a touch of garlic work harmoniously to enhance the natural buttery flavor of salmon. This marinade is perfect for warm summer days when you crave something bright and zesty.
Ingredients:
Fresh lemon juice
Olive oil
Fresh dill
Garlic
Lemon zest
Salt
Black pepper
Salmon fillets
Here's how to make it:
Combine all your ingredients in a bowl.
Adjust the flavors to your liking. Add more lemon juice if you prefer a tangy marinade, or more dill for a stronger taste.
Marinade the salmon for at least 30 minutes. Wait two hours for optimal taste.
Prepare the salmon, garnishing with more fresh dill.
3. Maple Mustard Marinade
Indulge in the perfect balance of sweetness and tanginess with a maple mustard marinade. Maple syrup provides a natural sweetness that complements the rich flavors of salmon, while Dijon mustard adds a pleasant kick and depth to the dish. This marinade is a favorite for its delightful caramelization and warm, inviting flavors.
Ingredients:
Pure maple syrup
Dijon mustard
Soy sauce
Garlic
Olive oil
Black pepper
Salmon fillets
Here's how to make it:
Combine the maple syrup, Dijon mustard, soy sauce, minced garlic, olive oil, and black pepper in a bowl.
Add more maple syrup if you prefer a sweeter marinade.
Alternatively, add more mustard and black pepper for a stronger taste.
Marinade the salmon in a shallow dish for at least 30 minutes.
Leave your salmon marinating for two hours for optimal taste.
Prepare the salmon, adding fresh parsley or green onions for a dash of freshness.
4. Teriyaki Glaze
Bring a taste of Japan to your dinner table with a savory and sweet teriyaki glaze. This marinade combines soy sauce, brown sugar, ginger, and garlic to create a delightful umami-rich experience. As the salmon soaks in the teriyaki glaze, it becomes succulent and packed with flavor, making it an excellent choice for any Asian-inspired meal.
Ingredients:
Olive/avocado oil
Teriyaki sauce
Garlic
Green onions
Here's how to make it:
Combine all the ingredients in a bowl. Ensure your garlic is thoroughly minced and green onion roughly chopped into ¼-inch pieces.
Marinade your salmon in a shallow tray or plastic bag for at least 30 minutes.
Prepare the salmon, using the leftover marinade to season rice or broccoli.
5. Citrus Herb Marinade
Elevate your salmon dish with the bright and aromatic flavors of this citrus herb marinade. Freshly squeezed orange and lemon juice combined with a medley of herbs such as rosemary, thyme, and parsley infuse the salmon with a burst of Mediterranean-inspired taste. This marinade adds a refreshing twist to your salmon and pairs wonderfully with a variety of side dishes.
Ingredients:
Orange and lemon juice
Olive oil
Parsley
Basil
Garlic
Orange and lemon zest
Dried oregano and thyme
Salt
Black pepper
Salmon fillets
Here's how to make it:
Thoroughly combine all the ingredients in a bowl, whisking for a few minutes.
Add more citrus juice for a tangier hit or extra parsley or basil for an earthier taste.
Marinade the salmon in a shallow dish or plastic bag, letting it soak for up to two hours for optimal taste.
Prepare the salmon, garnishing with a slice of lemon or orange for a much-desired pop of color. Garnish with additional fresh herbs.
6. Miso Sesame Glaze
For some delightful Asian fusion, this miso sesame glaze is a must-try. Miso paste, soy sauce, honey, and toasted sesame oil create a velvety glaze, bringing out the rich umami notes of salmon. The depth of flavors in this marinade is irresistible and will have you coming back for more.
Ingredients:
White miso paste
Soy sauce
Sesame oil
Rice vinegar
Honey
Garlic
Fresh ginger
Toasted sesame seeds
Salmon fillets
Here's how to make it:
Combine all your ingredients into a bowl, thoroughly mixing them.
Add a dash of honey or maple syrup for a kick of sweetness or soy sauce for extra salt.
Coat the fish with your marinade, ensuring all sides are evenly soaked. Marinade your salmon for up to two hours for optimal taste.
Prepare your salmon, adding toasted sesame seeds for a slight crunch and chopped green onions for added texture.
7. Spicy Cajun Rub
If you're a fan of bold and spicy flavors, a spicy Cajun rub is the one for you. A blend of Cajun spices, paprika, cayenne pepper, and garlic powder gives the salmon a fiery kick and a beautiful reddish hue. The spicy Cajun rub is perfect for those who enjoy a touch of heat and want to add some excitement to their salmon dish.
Ingredients:
Paprika
Garlic and onion thyme
Dried thyme and oregano
Cayenne and black pepper
White pepper
Salt
Olive oil
Salmon fillets
Here's how to make it:
Combine all the ingredients, adding a dash of white pepper if you like extra spice. Mix your ingredients well.
Add more cayenne or white pepper if you prefer your dish spicier.
Drizzle olive oil over the salmon, spreading it evenly to ensure the spice mix adheres to the fish. Marinade the salmon for about 30 minutes. Leave the marinade for an extra 20 minutes if you prefer more spice.
Prepare the salmon, finishing with fresh parsley and a squeeze of lime for that burst of acidity.
Tips When Marinading a Salmon
Here are some tips to ensure you get the best results when marinating salmon:
Pat the salmon dry: Patting your salmon fillets dry with paper towels helps the marinade stick better to the fish, promoting better browning when cooking.
Choose the right container: Use a shallow, non-reactive container or a resealable plastic bag to marinate the salmon. Ensure the marinade covers the salmon evenly for consistent flavor.
Marinade your salmon for the right time: The marinading time depends on the salmon's thickness and the marinade's intensity of flavors. As a general guideline, 30 minutes to two hours is sufficient for most marinades.
Avoid over-marinating: Avoid leaving the salmon in acidic or enzymatic marinades (e.g., lemon, lime, pineapple) for too long as they can start to "cook" the fish, giving it a mushy texture. 30 minutes should be ideal.
Refrigerate your salmon: Never marinade your salmon in room temperature, as it can promote bacterial growth.
Reserve some marinade: If you plan to use the marinade as a sauce, set aside a portion before adding it to the salmon. Never reuse marinades that have already interacted with raw fish unless you boil it first to kill any potential bacteria.
Gently coat the salmon: Be gentle when coating the salmon to avoid breaking apart the fish.
Score or pierce the salmon: If your marinade is on the thicker side, score the salmon's flesh or pierce it with a fork before marinading. This allows the marinade to seep deeper into the fish.
Season before and after: While the marinade provides most of the flavor, you can still season the salmon with a light sprinkle of salt and pepper before marinating. Don't forget to season again lightly just before cooking. Ensure your salmon is cooked perfectly with our guide.
Salmon Marinade FAQs
Can I marinate salmon overnight?
It isn't recommended to marinade salmon overnight especially with acidic ingredients. The acid can start to break down the delicate texture of the fish, resulting in a mushy consistency. If you plan to keep the salmon marinading overnight, consider removing the skin, as salmon skin locks in juices and flavor./
Can I reuse salmon marinade?
If the marinade has come into contact with raw salmon, you shouldn't use it unless you boil it to kill any potential bacteria. Instead, you can reserve some of the marinade before adding it to the salmon to use as a sauce later.
Do I need to marinate both sides of the salmon?
While it's not necessary to marinate both sides of the salmon, doing so can enhance flavor. You can marinate both sides by flipping the fish a few times during the marinating process.
Can I freeze salmon in the marinade for later use?
It's not recommended to freeze raw salmon in the marinade. Freezing and thawing can affect texture and flavor, causing the marinade may lose its potency. Instead, freeze the salmon separately and marinate it when you're ready to cook it.
Learn how to store salmon in the fridge or freezer in our guide.
Summary
Because salmon lends itself excellently to various preparations, you can rest assured it's a perfect vessel for many different marinades. Whether you're in a rush to impress last-minute guests or simply want to get ahead of a meal, marinades are easy to whip together. You can use simple ingredients from your pantry, mixing and matching until you find a delicious combination that complements your fish.
Pair your marinade with Alaskan Salmon Co's freshly wild-caught sockeye salmon, delivered straight to your doorstep in time for dinner prep.
+
Get fresh, sushi-grade Alaskan salmon delivered to your door.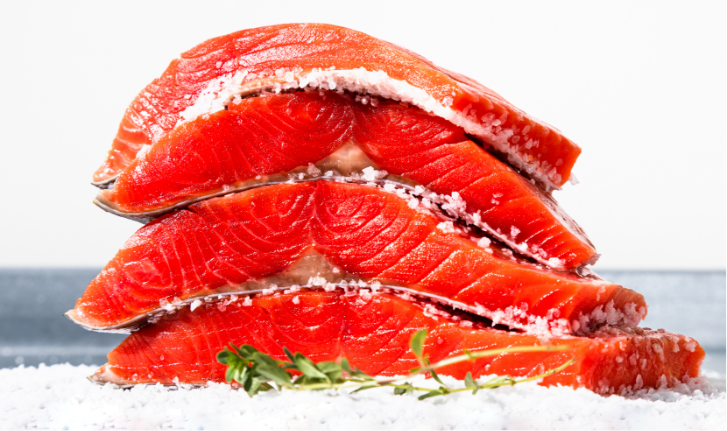 Shop Salmon