Everyone has heard of King or Sockeye salmon. But what many people haven't heard of is Coho salmon. It's one of five wild salmon species that call Alaska home. Coho salmon are also called "Silver salmon" due to their large and bright fish scales. Specifically, the Coho salmon that come from the Copper River carry the least amount of fat compared to Copper River sockeye and king salmon with only 7g of fat in a 6 oz portion but loaded with 1890 mg of heart and brain healthy omega-3. This is why we call Copper River Coho salmon  "The Hidden Gem of the Copper River"
What does Coho Salmon taste like? 
People who don't prefer the taste of Alaskan sockeye salmon automatically assume they don't like wild salmon, but we are here to introduce another species of salmon that might just be your next favorite meal! 
Coho salmon has a delicate and mild flavor. This is perfect for those who don't prefer the robust flavors of the sockeye salmon. Its medium level oil content and its mild flavor makes Alaskan Coho salmon a very versatile salmon that can cater to all. Knowing the Alaskan salmon inside and out, we seriously think Copper River Coho salmon is one of the best kept secrets of wild Alaskan salmon! 
Nutritional Benefits
Compared to the more popular King salmon and Sockeye salmon, Coho salmon have a lot less fat. This is why Coho salmon is an excellent protein for those who are looking to reduce their overall fat consumption but still want all the healthy benefits of the natural omega-3's. Even though it has over 30% less fat than the Copper River King salmon, it still boasts 1890 mg of the heart healthy long chain omega-3 fatty acids: DHA & EPA and a thinning 240 calories! 
 6 ounces of Copper Coho salmon contain 
54.5 g protein (35% more than other Alaskan Coho salmon) 

1890 mg of omega-3 (5% more than other Alaskan Coho salmon)

7g fat

240 calories
Seasonality and availability 
As a wild salmon, there will be a natural variance in the amount of salmon that return annually. On average, Alaskan Coho salmon's annual run begins in August and can continue through October every year. This is an excellent opportunity for people to access fresh salmon even in the late fall and winter months! 
Life Cycle
Coho salmon have a similar life cycle to all other wild salmon species. They closely resemble the life cycle of Sockeye salmon. Both Coho and Sockeye salmon live in fresh water for 2 years then they venture out and live and feed happily in the open ocean for 2-3 years before returning to their natal fresh water to spawn. During their lifetime their size can range from 5-18 lbs.
Fun fact: Baby Alaskan Coho salmon are very territorial. You can find these tiny fry battling it out to establish their boundaries. As they mature they can be seen jumping 6 ft out of the water! 🤯 This is why many sports fishman consider Coho salmon to be the best salmon species. 
+
Get fresh, sushi-grade Alaskan salmon delivered to your door.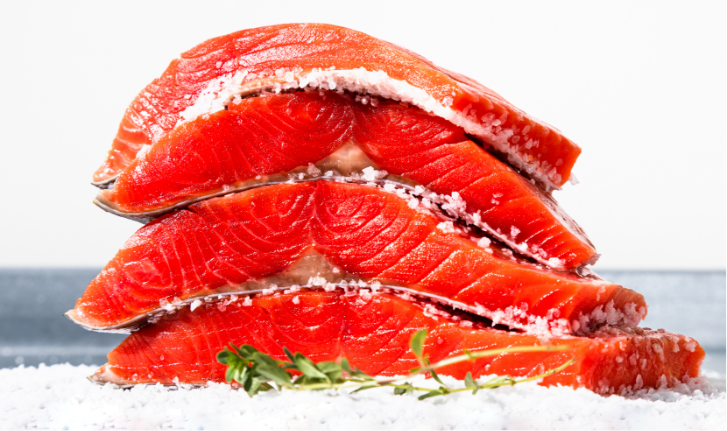 Shop Salmon