10 Delicious Salmon Paleo Recipes
If you're a fan of salmon, you're probabl already familiar with its nutritional benefits. What you may not know is that there are dozens of salmon paleo recipes for keeping up with this sometimes-tricky diet.

Whether you're shopping for quick and easy lunch recipes or ideas for a weeknight dinner, these paleo-friendly salmon recipes are bound to make your palette sing.
10 Delicious Salmon Paleo Recipes
Are you ready to get cooking? These paleo-approved salmon recipes are easy to put together and make an excellent addition to any paleo diet.
1. Lemon Garlic Herb-Crusted Baked Whole Salmon
This oven-baked paleo-approved salmon recipe is so easy to make – it's hearty, boasts an excellent crunch, and takes about 12 minutes to cook. Plus, you can use frozen fillets and still produce a mouthwatering meal.

Get the recipe
2. Bacon-Wrapped Salmon
Everything tastes better with bacon, or so they say. This bacon-wrapped salmon recipe is indulgent and meaty but not unhealthy (with the right ingredients). Pair your dish with a side of mash potatoes, a sprig of tarragon, and some lemon zest to bring all the flavors together.

Get the recipe
3. Roasted Cranberry and Pomegranate Salmon
If you're looking for the perfect balance of sweet and savory, this roasted cranberry and pomegranate salmon has you covered. Comprising orange juice, dried cranberries, and pomegranate seeds, this recipe blends fruity flavors with melt-in-your-mouth fish for a welcome punch of flavor. Plus, pomegranate is a superfood – it's heart-healthy and rich in antioxidants.

Get the recipe
4. Salmon Cakes
Are you attending to kids with picky palettes? Fear not – these salmon cakes are kid-friendly and jam-packed with nutrients. This recipe produces a fun and crispy treat that mimics nuggets. Throw in some Dijon mustard for more daring kids and teens for a more savory element and much-needed zest. Prepare a dipping sauce on the side for extra flavor.

Get the recipe
5. Teriyaki Salmon Rice Bowl
If you want to add some Asian flair to your typical salmon dish, try this teriyaki salmon rice bowl recipe. It's delightful, fresh, and full of healthy ingredients for something a little sweet. The homemade teriyaki sauce will taste better than anything store-bought and you'll whip it up in just under 20 minutes.

Get the recipe
6. Mediterranean Salmon Tartare
Sushi fans will love this alternative raw recipe, and it might be even quicker to whip up in the kitchen! Ramp up this recipe's flavor with pickled vegetables, herbs, and spices, throwing in some red onion for added texture.

Get the recipe
7. Pecan-Crusted Salmon
For something family style, consider this crunchy and delicious pecan-crusted salmon recipe. It's naturally gluten and grain-free, so it'll suit friends and family members with dietary restrictions. Throw in some smashed potatoes or crispy sweet potato fries to bring everything together.

Get the recipe
8. Greek Salad with Salmon
The truth is, salad doesn't have to be boring. This Greek salmon salad recipe gives your creamy, protein-packed fillet a fun and surprising crunch and is shockingly filling. Serve this recipe with a handful of croutons if you're craving even more texture.

Get the recipe
9. Salmon with Blackberry Sauce
It may sound unusual, but the blackberry sauce in this recipe makes the perfect complement to your wild-caught salmon's natural sweetness. And no, it isn't overbearingly sweet, so long as you do a good job of layering the tropical elements in this dish. Take the flavor up a notch with some fresh ginger and cook the fillets in coconut oil.

Get the recipe
10. Scrambled Eggs with Smoked Salmon
If you're a fan of breakfast for dinner (or just breakfast in general), scrambled eggs with smoked salmon make for a simple and delicious go-to. Use smoked salmon for this dish, throwing in freshly sliced avocado to get the right flavor notes. The best part? This recipe only takes ten minutes to cook.

Get the recipe
Elevate Your Paleo Diet with These Exquisite Paleo-Friendly Salmon Recipes
Trying to achieve a paleo diet may seem impossible, but there's a lot you can do with just a few ingredients and a little time to spare. Salmon is the perfect protein to highlight as part of a paleo diet, given its nutritional value and plethora of health benefits.

As with any diet, you'll have to start with the best available proteins. Bring your paleo salmon recipes together with the best wild-caught Alaskan salmon, retrieved directly from fresh Alaskan waters.
+
Get fresh, sushi-grade Alaskan salmon delivered to your door.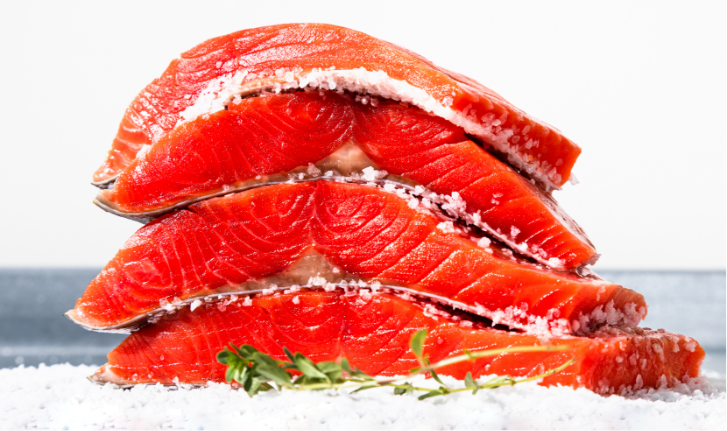 Shop Salmon