How to Cook Halibut at Home
Halibut is the most popular Alaskan whitefish and the largest flatfish in the ocean. It is a flaky, mild-tasting fish with a bevy of health benefits. However, if you only routinely eat halibut when at a restaurant, you might be missing out on trying the myriad ways you can cook this versatile fish at home. Here's everything you need to know about how to cook halibut for your next dinner.
Read: Alaskan Halibut 101: Nutrition, Taste, and Sustainability
How to Prepare Halibut 
You can cook halibut a multitude of ways. Whether you're wondering how to bake halibut, how to cook halibut on the grill or how to cook halibut in a pan on the stovetop, you've come to the right place — because you can do it all. As long as you don't overcook this lean meat, you can do just about anything. All you have to do is ensure you don't cook halibut for too long at a too high temperature. According to Chef Gordon Ramsay, your fish is done before you think it is done. This is because the fish will continue cooking with the residual heat even after you take it off the heat. To be precise, your halibut is done once the temperature reaches 145 degree Fahrenheit.
For how to season halibut before you pop it in the oven or on the grill, though, look to vibrant, bright flavors that can stand on their own. You'll want something with a bit of personality to complement the mild and sweet fish's gentler flavor.
How to Cook Halibut in the Oven
If the oven is your cooking method of choice, place your halibut filets (portioned into eight-ounce pieces) in a glass baking dish with your seasonings and a little olive oil. Then, bake the halibut at 425 degrees for 10 to 15 minutes. If cooking halibut with the skin on, place the skin side facing downward. You can also bake halibut in foil, to retain more moisture and infuse your fish with herbs and seasonings, by wrapping your filets and accompaniments tightly in foil and baking them at 450 degrees for 10 minutes.
However, while most recipes will tell you how long to bake halibut, if you're still not sure your halibut is done, even after the recommended time has elapsed, you can generally gauge a fish's doneness by looking at its texture and color. Fish is considered done when the flesh is opaque and it flakes easily; it's recommended you cook halibut to an internal temperature of 145 degrees Fahrenheit. Take your halibut out from the oven once it reaches that temperature to avoid overcooking the fish.

How to Grill Halibut 
If you're looking to grill your halibut, you'll need to take some extra steps to avoid burning and sticking. When pan-grilling halibut, be sure to add oil to the pan before adding your fish (and dry your fish filets before adding them to the pan as well, for more even browning). Heat your oil first, on medium-high heat, then add the fish in an even layer. If your halibut still has the skin on, make sure to put the skin down first. Don't move your fish around; let it develop a sear for a few minutes. You can enjoy a crispy skin if you do it right.  Then, flip it and cook the other side, until done. The process should take under 10 minutes total.
If grilling halibut on a barbecue, you'll want to preheat your grill, whether charcoal or gas, to around 375 degrees. Oil both your grill grates and the fish filets thoroughly, to prevent sticking. Then, place the fish on the grill, close the lid and let the grill do its work. Just like when grilling in a pan, let your halibut sit for about five minutes, so that it develops a nice sear. Then, flip it and let it cook further. Use a food thermometer to monitor your filets' internal temperatures and remove the filets from the grill once you reach 145 degrees Fahrenheit.
How to Cook Halibut in the Air Fryer
Cooking fish in your air fryer is easier than you likely think. Our full guide shows you how it's done, but, in general, you'll want to take your halibut straight from the freezer (yes, you can cook your halibut in the air fryer straight from frozen!), preheat your air fryer to 400 degrees and give it a spritz of non-stick spray, add your fish to the air fryer basket along with any accompaniments, and then let the filets cook, flipping in the middle of the cooking process.

What to Serve with Halibut
Halibut's light texture and taste mean it works well with more vibrant flavors, but you don't want to pair the fish with a side that will overpower it. Think light vegetable sides and starches, and citrus or vinegar-based flavors. Options might include…
Lemon-dressed rice or couscous

Sautéed green beans, carrots or asparagus

A light salad with citrus and a vinaigrette 

Creamed or sautéed greens
You can also use halibut as the fish of choice in your favorite fish sandwich or fish taco recipe.
5 Easy Recipes to Cook Halibut at Home
Whether you're still wondering how long to cook halibut or how to bake halibut in foil, or you want a one-dish halibut dinner that'll feed the family fast, you can find more info and step-by-step instructions in these five easy recipes.
1. Easy Baked Halibut
Recipe by Ike Green (Posted on Food Network)
If you want to try your hand at baking halibut (arguably the easiest way to cook this fish!), try this baked halibut with lemon and paprika. It requires minimal ingredients and only 15 minutes cooking time.
2. Foil-Wrapped Halibut with Rosemary Butter
If you want to try foil-wrapping halibut, try this recipe that results in ultra-succulent filets and a tasty accompaniment of rosemary-infused butter. Again, this is a recipe that requires minimal seasonings: salt, pepper, butter, and rosemary.
3. Easy Grilled Halibut
Photo and recipe by Hey Grill, Hey
For a quick grilled halibut, try this recipe, which you can serve with a tasty garlic butter and a splash of lemon. It's a summer-ready entree that'll go great with a light salad or grilled veggies.
4. Roasted Nicoise Salad with Halibut
Photo by Chelsea Kyle, Food Styling by Anna Stockwell, Posted on Epicurious
This recipe looks fancy due to the ingredients it uses, but we promise it's easy. It is also nutritious by combining vegetables like artichoke and green beans with flaky halibut. The one sheet-pan dinner makes for very little mess in the kitchen, while still looking impressive enough to serve at your next dinner party. 
5. Halibut Sauté with Spring Onions and Summer Squash
Recipe by Jeff Cerciello, posted on Epicurious
Another recipe that looks fancy, but isn't difficult at all, this recipe blends summertime favorite flavors for a dish that your family will ask for again and again.
Cook Only the Finest Halibut for Your Family 
While halibut is an extremely popular fish choice for many diners and home cooks alike, only wild-caught Alaskan halibut offers the fresh taste, high quality and health benefits that you want from your next fish dinner. Feed your family only the best, with The Halibut Box from Alaskan Salmon Company. 
+
Get fresh, sushi-grade Alaskan salmon delivered to your door.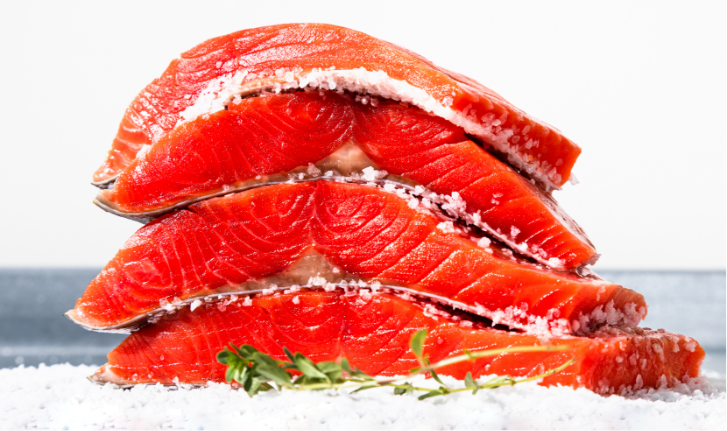 Shop Salmon