10 Best Seafood Online Delivery Services in 2023
In the era of digital convenience, the opportunity to buy seafood online has revolutionized the way seafood enthusiasts satisfy their cravings. With a simple search and a few clicks, seafood lovers can now experience the delight of seafood delivery services bringing the finest oceanic delicacies right to their doorstep.
In this guide, we will delve into the world of online seafood shopping and unveil the ten best places to order seafood online. Prepare to embark on a virtual seafood feast as we explore the esteemed seafood delivery services that offer an exceptional selection of succulent seafood, all from the comfort of your own home.
A Quick Summary of the Best Seafood Online Delivery Services
1. Fulton Fish Market - Best Overal
Fulton Fish Market, a legendary name in the seafood industry, now offers a seamless online shopping experience for seafood enthusiasts. With a rich history dating back to 1822, they bring unparalleled freshness and quality to their extensive selection of fish, crustaceans, and shellfish. Their commitment to sustainable sourcing ensures ethically obtained seafood, while their user-friendly website provides detailed descriptions and cooking tips. With specialized packaging and reliable nationwide shipping, Fulton Fish Market is the best place to order seafood online.
Pros:
Sustainable and recyclable packaging
Unique and exotic selections
Varied subscription models
Cons:
Limited shipping options
High minimum order requirement
Must be physically present to receive deliveries
Pricing: Starts at $7, boxes start at $65
2. SizzleFish - Runner Up for Best Overall
SizzleFish stands out as the best value for ordering seafood online, providing seafood enthusiasts with an exceptional combination of quality, variety, and affordability. With a commitment to sourcing sustainable and wild-caught seafood, SizzleFish offers a wide range of premium fish, shellfish, and gourmet seafood options. Their conveniently portioned servings not only ensure freshness and ease of preparation but also eliminate waste. SizzleFish delivers exceptional value without compromising on taste. With competitive pricing, frequent promotions, and flexible subscription options, SizzleFish empowers seafood lovers to indulge in their favorite oceanic delights while staying within their budget.
Pros:
Fish is flash-frozen to retain freshness
New recipes uploaded weekly
Individual portion sizes
Cons:
Relatively high prices
No weekend deliveries
Pricing: Starts at $7, boxes start at $120
3. Alaskan Salmon Company - Best for Salmon
Backed by Michelin-starred chefs, Alaskan Salmon Company is a revered sustainable option for getting high-quality salmon delivered straight to your doorstep. Alaskan Salmon Company's products are wild-caught and responsibly harvested, free from pesticides and other chemicals. Buyers get appointed a personal fisherman, who catches your seafood to-order, employing low-impact methods from the best Alaskan waters. You can select from wild-caught salmon, black cod, and halibut boxes, among others, or curate your own box.
Pros:
Stocks sushi-grade salmon
Employs local fishermen
Flash-freezes salmon to guarantee freshness
Cons:
Relatively expensive salmon varieties
Can't buy single packs
Pricing: Boxes start at $189
4. LobsterAnywhere - Best for Lobster
LobsterAnywhere stands out as the ultimate destination for ordering lobster online, offering seafood enthusiasts an unrivaled experience of indulging in the finest and freshest lobster delicacies. LobsterAnywhere sources their hard-shell lobsters directly from the cold waters of Maine, ensuring unparalleled taste and tenderness. Their online platform provides a comprehensive selection of lobster options, including live lobsters, lobster tails, and lobster meat, all accompanied by detailed product descriptions and cooking instructions. With a commitment to customer satisfaction, LobsterAnywhere guarantees timely delivery and excellent packaging that preserves the lobsters' quality during transit.
Pros:
Offers rewards points for discounts
Overnight shipping is free
Generous assortment of gift boxes
Cons:
Shipping unavailable on major holidays
Overnight shipping only available for orders by 6 a.m.
Pricing: Starts at $30, dinners start at $139
5. The Crab Place - Best for Crab
With a long-standing reputation for excellence, The Crab Place sources their crabs directly from the Chesapeake Bay, known for its succulent and flavorful varieties. Their online platform showcases a diverse selection of crab options, including blue crabs, snow crabs, and Dungeness crabs, accompanied by detailed descriptions and helpful cooking suggestions. The Crab Place's commitment to quality is evident in their meticulous packaging, ensuring that the crabs arrive fresh and intact.
Pros:
Live and cooked options available
Wide selection of prepared options
Cons:
No subscriptions available
Pricing: Starts at $39.99, VIP club starts at $69
6. Sea to Table - Best for Sustainable Options
Sea to Table offers a wide selection of responsibly sourced and traceable seafood. Their online platform showcases an array of fresh fish, shellfish, and other oceanic delights, each accompanied by detailed information about its origin and the fishing methods used. Sea to Table's direct partnerships with independent fishermen and domestic fisheries ensure that the seafood is of the highest quality, harvested using sustainable practices that prioritize the health of our marine ecosystems.
Pros:
Excellent traceability
100% satisfaction guarantee over 30 days
Account not required for ordering
Cons:
Free shipping starts at orders worth $99
Pricing: Starts at $13, boxes start at $121
7. Vital Choice - Best Subscription-Based Service
Vital Choice provides a range of subscription options that deliver the freshest and most nutritious seafood right to your doorstep. Their carefully curated boxes feature a variety of wild-caught fish, shellfish, and organic pantry items, ensuring a diverse and well-balanced selection for every palate. Their subscription model allows customers to customize their boxes based on personal preferences, dietary needs, and portion sizes. In addition, Vital Choice stocks a selection of seafood-derived health supplements and products.
Pros:
Can order up to nine boxes a month
Monthly confirmation ensures no accidental charges
Cons:
Lack of transparency for shipping prices
Limited customization options
Pricing: Starts at $30, boxes start at $130
8. Riviera Seafood Club - Best for Sushi-Grade Seafood
If you're on the market for sushi-grade tuna belly, yellowtail, or hamachi, the family-owned Riviera Seafood Club has the best quality in Los Angeles. It ships to all 50 states at reasonable prices, and also stocks other catches like prawns, unagi, black cod, and wild salmon.
Pros:
Fresh and flash-frozen options
Generous cuts for the price
Cons:
Minimum purchase amount for free shipping
Pricing: Starts at $10
9. Crowd Cow - Best Meal Prep Options
As its title suggests, Crowd Cow is a seafood delivery go-to for feeding a crowd. Its custom boxes feature mains and sides perfect for meal preparation throughout the week. Its sustainably sourced collection is vast, with over 50 seafood items to choose from. In addition, you can review each item's tasting notes and cooking instructions online. While Crowd Cow also stocks other meats, you can sign up for a seafood-only subscription.
Pros:
Buy according to specific fisheries and farms
Weekly deals and discounts
Geographically traceable
Cons:
High minimum spend to unlock free shipping
Pricing: Starts at $15.99, boxes start at $87
10. Purefish - Best for Ready-to-Cook Meals
If you love a good weekend grill, Purefish's ready-to-cook seafood selection is for you. The Grill Box has 16 servings of grill-firendly varieties you can throw immediately onto the barbecue in its accompanying packaging. With Purefish's unique packages, you won't have to worry about dirtying up your dishes. Because meals come vacuum-sealed, you can also pop them into the freezer to barbecue another day.
Pros:
Grill-friendly packaging
Comes with spice pack add-ons
Boxes are curated by dieticians
Cons:
Minimum of 16 portions per order
Can be hard to store because of quantity
Pricing: Boxes start at $107
Conclusion
The rise of seafood subscription services has revolutionized the way we enjoy fresh seafood delivered right to our doorsteps. With a plethora of options available, ordering seafood online has become a convenient and enticing way to indulge in the ocean's finest offerings. From sustainable sourcing to meticulous packaging, these seafood subscription services have transformed the landscape of seafood consumption, allowing us to savor the flavors of the sea with ease.
Whether you're seeking premium lobster, succulent crab, or a diverse assortment of fish, the convenience and quality offered by these seafood subscription services make them the ideal choice for those looking to order seafood online. So, embark on a culinary adventure and elevate your dining experience with the convenience of seafood subscription services that bring the freshest catch right to your table.
+
Get fresh, sushi-grade Alaskan salmon delivered to your door.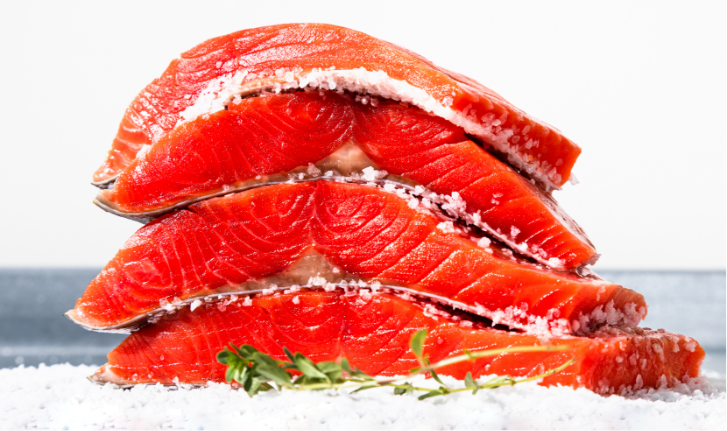 Shop Salmon